Three seniors earn scholarships for outstanding athletic, academic performances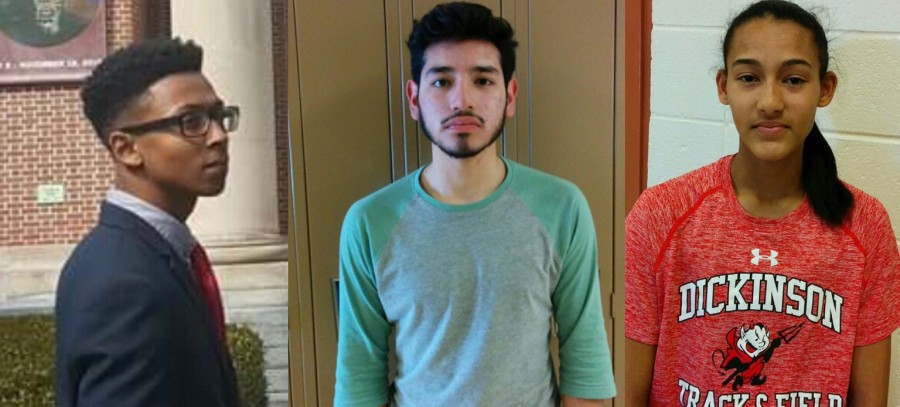 ---
Yes, spring is here, but flowers are not the only thing blooming as Watkins Mill seniors are receiving scholarships and looking forward to continuing their outstanding success in college.
Seniors Schezarone Carter, Jakob Martinez and Alyssa Rishell have all been rewarded with scholarships for their accomplishments at Watkins Mill and their work outside of the campus.
Carter received a partial scholarship to Hampton University for his work on the track after setting an indoor track school record, when he ran a time of 23.25 seconds in the 200 meter dash. The Hampton Coach "saw the determination in me and that I don't quit," Carter said, which his times reflect.
"I didn't really show it at first, but I was really happy inside knowing that my parents didn't have to pay anything," said Martinez, who got a full ride to the University of Wisconsin for his academics and leadership positions.  Martinez was a part of Maryland Leadership Workshops, where he talked with other students about being able to lead their peers.  He also worked with the Minority Scholars Program, helping to narrow the achievement gap.
"I never thought I was actually good enough. To actually get this gave me a boost of self-confidence," said Rishell, after receiving news that she had received a partial scholarship to University of Maryland Baltimore County. She set all-time school records for the 400, 500, and 800 meter indoor runs and 400m and 800m outdoor runs. Rishell was also apart of four record-setting relay teams.
These scholarships give the students an amazing opportunity for a great education and experience. "I'm looking forward to meeting new people, looking into my major, and learning more on that subject," Rishell.
"I'm looking forward to what it's like being on your own," added Martinez whose journey to Wisconsin will be the farthest out of the three.
Scholarships aren't just free rides. They are a long painful ride but the reward is well worth it. For students looking for scholarships, the seniors give out good advice. To get noticed by colleges, Martinez said to "make sure you push yourself to do more than just what you are supposed to do in school."
Carter added, "Just keep on striving for your dreams and keep your mind toward your goal."
Rishell added, "Work on your time management, don't procrastinate, and make sure you know what you're getting yourself into."

Hits : 840