Lady 'Rines will battle against Knights in playoffs at home tonight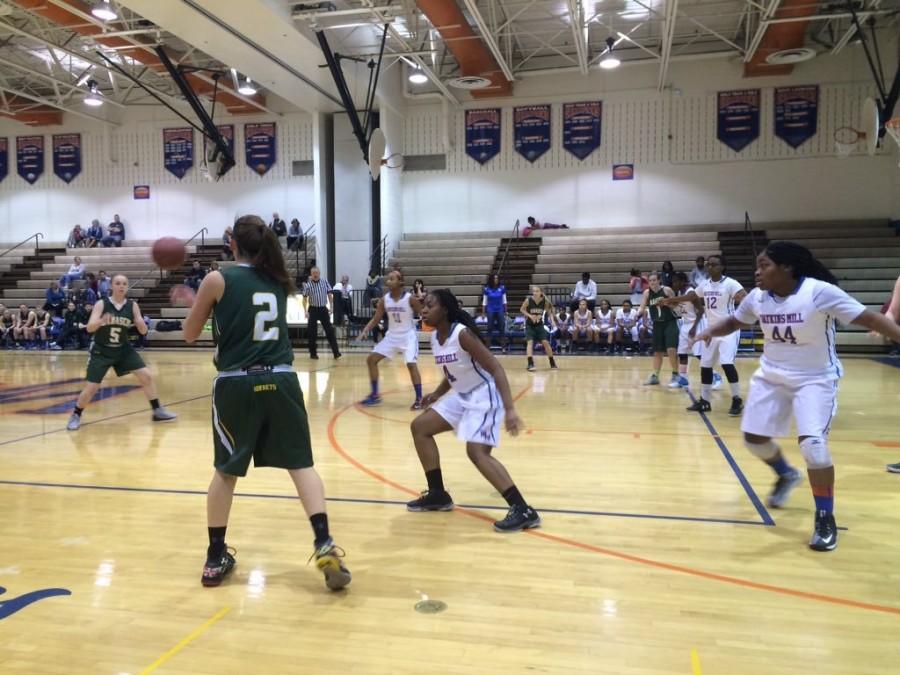 Lady Rines' basketball enters the playoffs tonight at home against the Wheaton Knights at 7:15pm looking to break a losing streak after dropping six straight games, most recently to the Springbrook Blue Devils.
It was a tough loss at home to Springbrook on Tuesday as the ladies were on the verge of breaking the long streak, but ultimately losing 37-40.  It looked as if the 'Rines would escape with the win, taking a 20-14 lead into halftime before the Blue Devils stormed back, shooting the ball well to crack the Wolverines' zone defense.
Junior forward Shawna McDougall believes that, "[The Lady Rines] did pretty good, but we didn't sustain our performance." She finished with 17 points and seven rebounds.
"It was hard fought," junior Amashia Moyd said. "Overall, it was a good game."
The Lady 'Rines' game against the Bethesda Chevy-Chase Barons on Monday was very well-fought. The girls gave it their all but were unable to get past the Barons, losing 40-65 on the road.  The team was lead by McDougall who had a great all-around game with 19 points and nine rebounds.  McDougall continues to play hard and posts great stats in the process.
The 'Rines hung around through the first half, finding good shots inside while also keeping the turnovers low.  However, the Barons exploded on a 12-0 run in the third quarter to take control of the game.
In a rescheduled game, the Rines' faced the Damascus Hornets at home on Saturday and fell 24-50.  McDougall led the team again, posting 18 points in the blowout loss.
The Wolverines started slow again and could never claw their way back into the game.  The 'Rines' defense improved in the second half to create a more competitive game, yet it was the Hornets' game from the start.
The Lady 'Rines suffered a devastating loss in a cross-county match up against Thomas Johnson in Frederick on February 19. They came out with tons of enthusiasm but when they started to lose their lead, they also lost their confidence as well.
Come support the Lady 'Rines tonight in their double header with boys basketball to start playoffs.

Hits : 1013