Seniors offer advice to freshmen on how to make the most of high school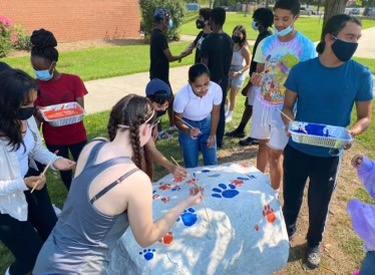 Everyone, especially freshmen, could use advice, but most people don't have older siblings or friends to help them around, so here are some tips from experienced seniors who would love to pass along their wisdom.
For senior Myles Manor, who plays golf and lacrosse, he says extracurriculars "helped me find friends…they helped my high school transcript [and they] helped me get more involved in my school." If given the chance to go back to freshman year and change anything, Manor said, "I wish I talked more my freshman year, and I wish I played more sports."
The best memory Manor has made was playing "basketball on the blacktops during lunch, and my favorite class was definitely Spanish with Mrs. Morejon."
Senior Josh Miller, member of the golf and baseball teams, also joined extracurriculars early. "High school became so much more fun and bearable with sports, [and] I was able to connect with more people."
Miller plans to attend Montgomery College for two years and then transfer to the University of Maryland, Baltimore Campus (UMBC), where he wants to study advertising. The hardest part of high school for Miller was, like thousands of students across the country, the pandemic.
"I found it really hard to get up in the morning…logging in was the hardest thing," Miller said. But confidence helped Miller make friends in high school. "In middle school I would [hang out with my] friend's friends, but in high school I found someone that looked like they'd be nice and just talked to them."
"Don't be afraid," senior Joel Contreras said. Contreras plans on studying STEM in college. The most challenging moment he faced during high school was transferring to Watkins Mill during his sophomore year. "[I wish I knew] to make friends with everyone," Contreras said.
Although transferring to a new school was Contreras' most challenging moment, he thinks of his sophomore year homecoming as his most memorable moment in high school.
For most, high school is a challenge. Whether it's finding classes, making friends, or deciding what to do with your future, high school can be overwhelming at times. Do not second guess yourself, and never be afraid to ask for help. It is important to remember that you are not alone, and that the stressful times will pass before you know it.
Hits : 185
Leave a Comment
About the Contributors
Julien Payen, Sports Managing Editor
 Julien is a Junior at Watkins Mill High School. He is Sports Managing Editor and photography director for the Current. He went to a teeny-tiny middle...
Mina Graham, Associate Editor
 Mina Graham is a Senior at Watkins Mill High School. She is part of NHS, ACES, the Social Awareness Group (SAG), and plays varsity tennis. She has plans...