Marvel Cinematic Universe movies ranked from worst to best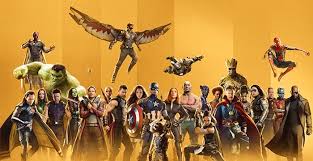 *DISCLAIMER* THIS IS OUR OPINION (ALTHOUGH OUR OPINION IS RIGHT) AND SPOILER WARNING!!!
In wake of the beginning of phase four of the Marvel Cinematic Universe, we decided to rank the films in order of worst to best Marvel film. 
23) THE INCREDIBLE HULK
Do we need to explain? No. Mark Ruffalo isn't in it, our dads hate it, and we trust them, so. 
22) THOR: THE DARK WORLD 
It wasn't great compared to all the other movies. It deserves this spot, it had bad directing and just was not good. It had too dark lighting for the very unfunny presence of the plot and the characters. 
21) IRON MAN 2
Literally, what was this movie even about? We can't remember a single memorable moment; we honestly forgot this movie existed. 
20) THOR
Thor with bleached eyebrows.
19) AVENGERS: AGE OF ULTRON
The trailer made it out to seem like it would be a really dark movie, similar to Infinity War and Endgame, but it turned out to be a badly written fanfic. Honestly, Wanda and Pietro saved this movie but *SPOILER WARNING* Pietro dies and unfortunately Clint survives (also why this rating is so low).
18) CAPTAIN AMERICA: CIVIL WAR
We honestly like this movie, but it divided our favorite characters and put them against each other. It's a rip-off Avengers movie, it literally had everyone, but Thor and Bruce Banner. Although, props to this movie for introducing Spider-Man. (Ryleigh was Team Iron Man and Krystin was Team Cap, it pitted us against each other).
17) CAPTAIN AMERICA: THE FIRST AVENGER
Honestly, we like this move too, but someone's gotta be in the middle. It introduced Captain America and Bucky Barnes, it was pretty good.  Still, there were better movies.
16) GUARDIANS OF THE GALAXY
The movie was good, it had humor and action and introduced us to the Guardians and Chris Pratt as a humorous superhero. It was a pretty average movie, nothing special about it.
15) ANT-MAN
It was a pretty solid hero origin movie, I mean Paul Rudd is in it and who doesn't love him?! It had a great balance of humor to action to familial love. It's a good movie, it just doesn't have much to make it stand out.
14) CAPTAIN MARVEL
This movie was an amazing origin story, it was fun and action packed. The only flaw was not releasing this movie earlier in the timeline of the universe. It was out of place where they released it. Additionally, they didn't have time to build up her character, because she only had one movie before being thrown into Endgame when the other characters had wayyyy more time to develop. It was so great to see a female superhero finally have her own movie (Black Widow coming out July 9!) and be confident in her powers.
13) DOCTOR STRANGE 
Doctor Strange was a really good movie. It had a good character arc of Stephen Strange, and how he had much to learn/how much he did learn. Dr. Strange is a really good movie and went more into magic than any of the previous movies. And Rachel McAdams was in it!
12) SPIDER-MAN: HOMECOMING
It was a pretty good take on Spider-Man for the MCU, it took a different route than the other Spider-Man movies did. It built up the relationship between Peter and Tony which makes Infinity War, Endgame and Far From Home so much sadder. It emphasized how Peter was just a kid, which is something the other Spider-Man movies didn't really emphasize. 
11) AVENGERS
It's a classic movie in the MCU, it's the first time that we see all the heroes together. Loki was extravagant as always and Black Widow really outshined everyone. This movie included a first look at Mark Ruffalo A.K.A. the REAL Incredible Hulk. But why did Captain America's suit look like a costume from a Halloween store?
10) ANT-MAN AND THE WASP
It was nice to see what he was doing during Infinity War! But, most importantly, it's our first look at Jimmy Woo <3333. The end credits scene was superior, shocking, and we discover the quantum realm in this movie which is the perfect segway  to Endgame. 
9) GUARDIANS OF THE GALAXY VOL. 2
This soundtrack was superior, and it gave us Baby Groot. Nebula and Gamora's relationship is further developed and the humor was pretty great. 
8) AVENGERS: ENDGAME
This movie begins at a sad point in time, our heroes just lost for the first time, and they're coping very terribly (just like all the fans were). Our heroes discover to win they have to go back in time, and the original six survived that fateful snap and it was nice to see the films come full circle (BADLY). Tony had developed a life five years after the snap but decides to save the world because of his favorite spider :(. *SPOILER WARNING* Unfortunately, Clint did survive this movie at the sacrifice of Natasha. It was an sad end to phase 3. *SPOILER WARNING* RIP Tony Stark. Also, it made no sense that Steve would leave Bucky like that, but okay I guess.
7) AVENGERS: INFINITY WAR
What a movie! We got to see all our favorite heroes join together in one movie, although the Avengers were all split up. The best part of this movie was the absence of Clint. The way our favorite robot got the Mind Stone forcibly ripped out of his head (btw watch WandaVision on Disney+ if you can, it's amazing). The saddest part was the unscripted scene between Tony and Peter when Peter is being dusted. This was the first time we saw the heroes lose, and it was a great movie with lots of memorable moments.
6) IRON MAN
This is the first movie in the MCU and obviously it had to be near the top. The AC/DC tracks were superior and Tony's arc in just this one movie was fulfilling. It was a classic so had to be ranked here. Also, Pepper Potts and Tony. 
5) SPIDER-MAN: FAR FROM HOME
Here we can see Peter dealing with his grief and trying to live up to Tony. It was a great movie, we got to see them traveling and lots of humor especially in regards to his secret identity. It teases the multiverse and that end credit scene, wow, *SPOILER WARNING* Spider-Man is now revealed to be Peter Parker. Also, we love Jake Gyllenhaal. 
4) IRON MAN 3
Honestly, the best Iron Man movie. We can see Tony dealing with his PTSD from Avengers and Harley was in it. It had a lot of humor and it had good action scenes, we watched this movie like ten times. It's definitely on the repeat watchlist, and more Pepper and Tony.
3) CAPTAIN AMERICA: THE WINTER SOLDIER
Instead of an introduction to Bucky Barnes, we get to see the Winter Soldier and see him in action. He quite literally fights everybody in this movie, including his bestie Steve Rogers. Black Widow ate everyone up in this movie (as always) and they exposed SHIELD/HYDRA. Very good movie, definitely watching this once a month just to see Bucky Barnes/Winter Soldier in action with his metal arm. 
2) BLACK PANTHER
Literally who doesn't like this movie? We just rewatched this movie like two days ago. This is probably the best introduction film in the MCU. We got to see how T'Challa, played by the late Chadwick Boseman, blossomed into a hero. Michael B. Jordan <33333. Shuri stole the show and showed she's the smartest person in the entire MCU. There was a perfect balance between the humor and action, the soundtrack was amazing and it was just such an empowering movie. All of the songs from the soundtrack are in our playlist. 
1) THOR: RAGNAROK
Is anyone surprised about this ranking? It is the best movie in the MCU, no debate. This movie redeems the entire Thor saga, all of the other movies were pretty dull, but this one was amazing! Loki stole the show once again and introduced us to the magnificent Valkyrie. Thor and Loki's relationship as brothers really blossomed and was the perfect balance between hate and love. It was quite literally a cinematic masterpiece with many mind-blowing shots. And we finally see what Thor and Bruce/Hulk were doing during Civil War. Cate Blanchett was an incredible villain as Hela, and their sibling dynamic was terrible and incredibly entertaining but you can't blame her, it was because of their father.  The acting in this movie is so superior, literally we watch this movie all of the time. Taika Waititi really is an incredible director and gave life to this otherwise unexciting saga. 
What do you think of our list? Even though you will be wrong if you disagree, feel free to comment or tweet us your opinion.
Hits : 987
View Comments (3)
About the Contributors
Krystin Ipina, Editor-in-Chief
 Krystin is a senior at Watkins Mill High School and Co-Editor in Chief of the Current. She's part of the Our Minds Matter club, Key Club, ACES, and...
Ryleigh Waters, Editor-in-Chief
 Ryleigh is a Senior at Watkins Mill High School and Co-Editor in Chief of the Current. She plays varsity field hockey and lacrosse. She currently plans...