What school will look like at Watkins Mill when students return
Schools across the county are preparing to welcome students back in after the Board of Education voted to reopen. Watkins Mill High School is currently focusing on precautions to reopen safely for students and staff, despite concerns of the COVID-19 pandemic.
"I can guarantee that we're going to try our best to be as safe as possible in the building," principal Carol Goddard said. Starting March 15, students will be phased in based on factors such as program and grade level. The first group to return will be Medical Careers, METS, alternative programs, and special education programs, if they chose to come back into the building.
"I'm excited to finally go back to some normalcy and complete my senior year with my peers," senior Afia Obeng said. "I am sick and tired of staying [at] home and having to learn online by myself without my classmates."
In a previous survey that was conducted, only 532 WM students chose to opt in to in-person instruction. However, due to the A/B week schedule that WMHS is using, only half of those students will be in the building at a time. Students may still be able to change their decision to do in-person learning.
Upon students' return, they will have the same class schedule each week. Returning students will be grouped into week "A" or week "B," because every other week students will alternate between virtual and in-person learning. This identification will determine which weeks they attend classes in person.
"I'm not excited about [going back to school]," senior Leila Sires said. "But as a senior I want to spend my last month in school and say 'bye' to as many people as I can."
All Wednesdays will continue to be asynchronous and no students will come into the building for class. Weeks that include a day off from regular instruction will have an altered Wednesday schedule to make up the missing day. Details are to be determined.
If a student rides the bus to school, they will arrive at about 7:30am. This keeps the bus schedules consistent with elementary and middle school routes. First period will still begin at 9am for everyone. Students who arrive at school early will be able to visit teachers before classes begin, which will serve as Village Time. The full bell schedule is shown.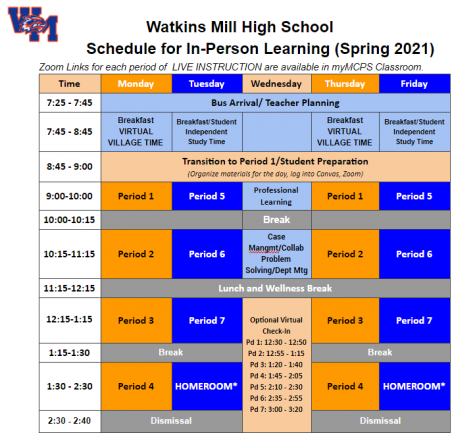 "I am most excited about getting [to] know my students as people instead of little black tiles," English resource teacher Julie Dean said. "My main concern is that some teachers and most students have not been vaccinated."
"I am hopeful that MCPS will continue to work on creating transparent procedures and policies in line with current science and CDC recommendations to keep students and staff as safe as possible," science teacher Laura Davis- Vaughan said.
Classrooms are set up to ensure social distancing guidelines are followed. "We have set up the rooms where social distancing is taking place so everything's at least six feet, if not eight feet apart. We have desks that are placed upside down where you can't sit, and ones [upright] where you can [sit] so that when kids come in they're spaced out properly," Goddard said.
There are several precautions to ensure student and staff safety with the return to school. All students will be required to wear a mask. If a student does not have a mask, the student will be provided a mask. A "Covid kit" including gloves, hand sanitizer, Clorox wipes, paper towels, etc. will be placed in each classroom. Stairways will be marked as one way entryways. Water fountains and lockers will not be in use. For teachers who are not returning, there will be an adult monitor in the classroom with students.
If a student exhibits symptoms of being ill, there are procedures in place for them to easily leave the building without exposure. Additionally, the Heating, Ventilation, and Air Circulation (HVAC) systems have been updated with new filters to promote clean air and prevent the spreading of germs.
"I'm against the reopening. I don't think that MCPS/BOE are prepared enough for a safe return to work," math teacher Stephen Burrows said. "I'm fortunate in a way as I was granted ADA accommodations to remain virtual, but I fear for my colleagues who must cover my classes. I'm not sure how I can live with myself if a student/teacher/staff member gets the COVID from one of my classes."
All teachers are required to return to school with their classes unless they have a specific telework accommodation due to health concerns. WMHS is working hard to get all teachers vaccinated, starting with those who are entering the building first.
"I am really happy to see small groups of our neediest kids going back to school buildings," Davis-Vaughan added. "[But I feel] guilty and sad [about not going to school]. I know remaining on telework is a working situation many of my friends would prefer and need for various reasons. [And I feel] sad [because] I really miss my students and work. I just wish we could have 'normal' back."
There will only be a few students in a classroom at a time. "There is going to be no more than 12 students in a class," Goddard added. "It would be a one to 12 [teacher to student] ratio. Some classes have two or three [students], some have eight, some might have ten. It is very easy to social distance."
Three "grab-and-go" style meals will be available to students each day, similar to how they have been throughout the pandemic. Students attending in-person classes will receive this food in the cafeteria. During lunch, students may sit at the socially distanced tables in the cafeteria, or they may return to their previous class. Hot meals may be available at a later date, but for now, only "grab-and-go" meals and the food markets will be available.
"In the cafeteria, we plan on putting some desks in there and 'social distance' the desks so that you can still have conversations with your friends," Goddard said. "If we use cafeteria tables we won't sit in front of each other. Everybody will be facing one way so that you're not talking at each other and eating."
The ability to return to school safely is exciting for many, but there are still Covid cases to be aware of when preparing to go back. "Millions of people have lost their lives. It's not a game," Goddard said. "In the name of safety and health, I think high school kids can really possess and know that whatever we do, we have to be careful. Social distancing and face masks are paramount. We are not out of this pandemic yet."
Hits : 1066
About the Writers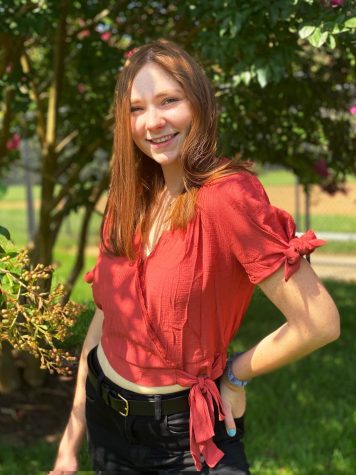 Katelyn Burley, Editor-in-Chief
Katelyn "Katie" Burley is a senior and the Co-Editor-in-Chief of the Watkins Mill High School Current. She is in the IB Career Program for Early Childhood...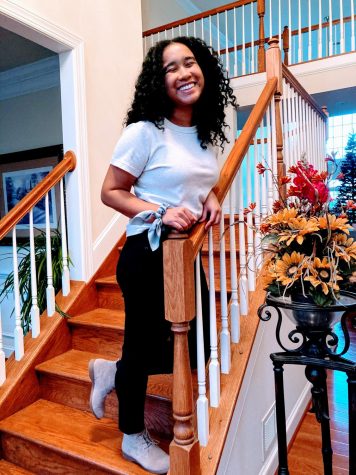 Grace Edwards, Editor-in-Chief
Grace Edwards is a senior at Watkins Mill High School and Co-Editor-in-Chief for The Current. She is a straight-A student who enjoys playing her violin....