Books to diversify the high school English curriculum
In light of Black History Month and the awareness caused by the protests of the summer of 2020, discussions of how to be anti-racist as well as education on systemic racism continue to rise. Projects like the 1619 Project continue to encourage diversification and inclusivity in English and Social Studies curriculums to better prepare students to understand a rapidly diversifying country. 
Here are our top 13 books about and/or written by Black and POC authors in order of grade level and sensitivity. *Note: We are not professionals or professional curriculum designers; this is just a student's opinion.* 
Ninth grade
To Kill a Mockingbird by Harper Lee
What kind of newspaper staff would we be if we didn't include Mrs. Confino's favorite book? (Hi, Mrs. Confino!) While students do already read this book in ninth grade English class, it is important to equip teachers to discuss race in the classroom while studying this book. 
First, this is not an example of white saviorism, so please do not imply that it is or teach as if it is. Yes, Atticus Finch was a white lawyer who had better morals than other southerners while he was defending Tom Robinson, a Black man. However, Black people weren't able to defend themselves in the court of law back then. So to say that TKAM is an example of white saviorism or to preach it to defend the idea that Black people are inferior in some way is arrogant and ignorant. The problem is that minorities are not given opportunities– due to systemic oppression–  to succeed in order to defend themselves. 
Second, to teachers, please do not say the n-word while reading any book aloud. I was very fortunate to have an English teacher who purposely skipped and read around the word when it came up. However, my friends weren't so lucky. In some cases, some teachers defended their use of the n-word because "It was in the book!" This is not how you build a safe place for students of color to discuss race. This is how you incite racial gaslighting and discomfort in a place of learning.
The Secret Life of Bees by Sue Monk Kidd
This book was actually made into a movie in 2008 with Dakota Fanning, Queen Latifah, Jennifer Hudson, and Alicia Keys. Though the movie is amazing, people seem to forget about how good the book is. Focusing on the characters, this book showcases an empowering relationship of five young women during a time where any type of interracial relationship was seen as taboo. 
Although the book mainly tells the story about the experience of a white girl living and bonding with black women, it does a good job at showing the relationship of all the women and not just one. It's important to not stereotype other races, and this book is a good example of a healthy relationship between different races. 
How the Garcia Girls Lost Their Accents by Julia Alvarez
To anyone moving to a new country, there will always be some differences. This book focuses on the differences four sisters from a well off family face when coming from the Dominican Republic to the United States. Because MCPS has a large population of immigrants/families of immigrants, this is a good book to get a different perspective on what someone might go through when moving from one country to another. What also makes this book unique is that instead of having one narrator, this story is made from 15 different stories that all interconnect, giving the reader even more perspective on the situation of the sisters.
Tenth grade
Outrun The Moon by Stacey Lee
What makes this story unique is the strength and determination of the main character. A young girl named Mercy Wong strives to take her family out of poverty by becoming an entrepreneur. Through facing discrimination at her new school and dealing with an earthquake that separates her from her family, she remains strong throughout the book. 
For that reason, it would be a great addition to the English curriculum. Not only does it have a person of color as the main character, but this story also has a good message to overcome challenges and not give up when faced with a challenge. When dealing with issues you can't control (poverty, racism, etc.), this brings a positive message that you can survive. 
The Hate U Give by Angie Thomas
Most may know the title based on the 2018 movie starring Amandla Stenburg, but it is based off the 2017 book of the same name. It follows a teenage girl whose friend falls victim to police brutality and the aftermath of the community after her friend's death. This book is and has been especially important since the death of George Floyd, and even further back with the death of Michael Brown, and others that will never be forgotten.  I would highly recommend this book for anyone who wants to learn and understand how they might be a better ally to the Black and African-American community. 
Eleventh grade
The Bluest Eye by Toni Morrision
In this book, an eleven year old Black girl talks about her painful and emotional life growing up during the Great Depression. If you believe the book is anti-white, you missed the whole point of the story.
The story is about the life of a young girl in a very hard time who is facing difficulties. It talks about her struggles and how she deals with them in detail, and that allows the readers to compare her experiences to a wealthier white girl during that time period. That might come off as anti-white, when it really just shows the experiences between races. 
This book includes very sensitive topics, it's beneficial to read about because it shows the reality of a young Black girl in America during the Great Depression.
A Long Way Gone by Ishmael Beah
Beah's traumatic recollection of being a child soldier in Sierra Leone for three years is a captivating story about having to survive in a terrible situation, and then having to deal with the effects later on in life. Living in Sierra Leone during a dangerous time, his family was murdered by the army when he was 11. He was forced into becoming a soldier at the age of 12, causing him to see and do terrible things. 
What makes this book interesting is that even though it is about Beah being a child soldier, the plot focuses more on his life after. In fact, the period where he was a soldier is the shortest part in the book. This book pays more attention to having to live and accept a bad past, which is important and interesting to read about. 
Even though there are mature and sensitive topics in the book, it helps show the first hand experience of child soldiers. I feel like there aren't many stories about child soldiers, and it's an important story to tell. 
The Hill We Climb And Other Poems by Amanda Gorman 
Written by someone who needs no introduction, Gorman revealed to young people that poetic words and literature can impact and influence change. A perfect example of how Generation Z can make a positive impact. 10/10 would highly recommend this collection of poems for anyone interested in gaining inspiration and creativity to write. 
Twelfth grade
Becoming by Michelle Obama
Published in 2018, Michelle Obama pours out her childhood life story and personal and external obstacles. From a high school counselor discouraging her from applying to Princeton University, to dealing with the deaths of loved ones, and a miscarriage, she connects with the audience in a deep and emotional story that binds communities together, promoting hope. Having read the book, I would highly recommend it for any high school student struggling with their future and purpose, especially high school seniors. 
The Promised Land by Barack Obama
Regardless of your political affiliation, while it is a left-leaning President's book, it reads more like Barack Obama's autobiography, rather than President Obama's biography. It's an incredible book if you're willing to understand the life of Barack Obama and his thinking as it relates to his policies, especially if you want to learn more about politics and how to compromise when you can, and stand your ground when you can't. 
If Beale Street Could Talk by James Baldwin
Let's begin with the elephant in the room. James Baldwin is not a radical. His ideas and commentary as it relates to racial challenges in America still stand today.  Take for instance this interview he had on the Dick Cavett Show. It will shock you how much his arguments are still being used today as it relates to Black Lives Matters and how Black people interact with other races in academia.
However, James Baldwin started off as a novelist. Cut to "If Beale Street Could Talk." It is a heart-wrenching story about love and tenacity. Definitely would recommend this book for anyone wanting to "walk a mile" in the shoes of a young black couple coming face to face with systemic racism. 
Another book that would be fantastic for those who want to understand James Baldwin and his commentary on American race relations is Begin Again by Princeton University Eddie Glaude. Don't read this book if you're not mature enough to handle the depth of racial incidences or if you're not willing to do some deep soul searching.
While MCPS has made a big effort to diversify the English curriculum with poems and stories from Chimamanda Ngozi Adichie, August Wilson, and Richard Wright (those of which are a good start), other books or at least chapters from books like "Stamped Racism Antiracism and You" by Ibram X. Kendi and Jason Reynolds; "They Could Have Named Her Anything" by Stephanie Jimenez; "Clap Where You Land" by Elizabeth Acevedo; and "Their Eyes Were Watching God" by Zora Neale Hurston should be incorporated. These books not only incorporate the Black American experience, but also the Latinx experience (a story that is not seen enough in English literature). These stories explain race relations from a more systemic and personal point of view. 
Both English and Social Studies teachers should be equipped and trained to lead discussions about race when examining these books, opening up and creating a safe place for students of color to express their thoughts about race relations in America. This will create more educated and open-minded students. 
Hits : 1474
Leave a Comment
About the Contributors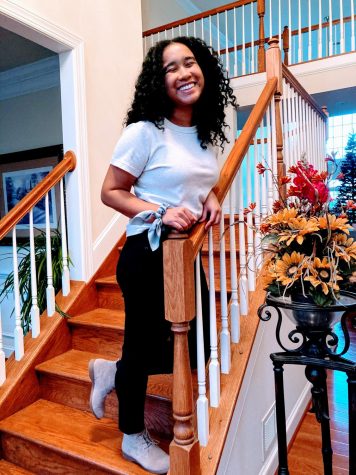 Grace Edwards, Editor-in-Chief
Grace Edwards is a senior at Watkins Mill High School and Co-Editor-in-Chief for The Current. She is a straight-A student who enjoys playing her violin....
Mina Graham, Associate Editor
 Mina Graham is a Senior at Watkins Mill High School. She is part of NHS, ACES, the Social Awareness Group (SAG), and plays varsity tennis. She has plans...