Courtyard sculptures seem commonplace now, but caused big controversy when school opened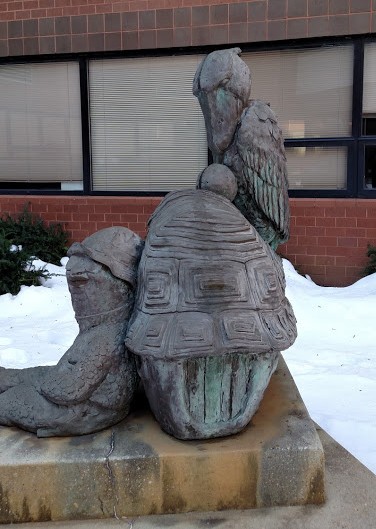 Hang on for a minute...we're trying to find some more stories you might like.
When many of our students take photography for the first time, their earliest subjects are the bizarre animal statues in the courtyard. Such as a turtle sunbathing out of his shell, or the eerie pelican that looms over him.
But where did those sculptures come from?
When Watkins Mill opened in 1989, the school board wanted to showcase some original art in the school's halls. The sculptures were selected from entries from around the country and were the work of artist Lorraine Vail. According to The Washington Post, Vail's original design consisted of a big-beaked bird in renaissance clothes, an archaeologist named Dr. Digwell that is excavating pots while one pot tries to flee, and an alligator in Victorian clothes pushing a baby carriage shaped like an egg with an old man in it typing on a keyboard.
When the Montgomery County Board of Education saw the sketches and a cardboard mock-up of the sculptures, however, they were not pleased with Vail's design. Former board member at the time Sharon DiFonzo described the sculptures to The Washington Post as  "gross" and "weird," while Bruce Goldensohn, another board member, said they were "borderline bizarre."
The Board of Education decided against the artwork and directed the committee that had picked it to send it back to the artist and get the artwork revised.
Vail told The Washington Post at the time that her sculptures were designed to "make a rather sterile courtyard environment into a place where you could hang out. You can go sit on the steps. Even if it is a little crazy, I would love to go have lunch with Dr. Digwell or one of the other characters."
Vail revised her plans for the sculpture and she removed the baby carriage with the old man inside.  It was then accepted by the board and was installed the courtyard.
While students seem to agree that Vail's sculptures are kind of strange, she seems to have achieved her desired effect of creating an interesting courtyard.  Sophomore Matthew Hartwell said, "I'm confused by what they are supposed to be, but [I] think they are kind of cool."
Science teacher Vincent Naylor, who has been at the school since it opened, said, "When the school was first built it was very important for them to include artwork …. The sculptures were geared towards Edgar Allen Poe and his writing and works."  According to Naylor, there used to be an additional sculpture that was later damaged and removed from the courtyard.  "It would have been too much work to fix it because of the way the courtyard was designed."
"I thought [the sculptures] were quite interesting," Naylor added.  "They weren't something normal; they were something that was different."
Social studies teacher Jim Archer, who has also been at the school since it opened, added, " I have been around [the sculptures] so long that I don't really think about them [anymore]."


Hits : 545