Believing the victim should be normalized, victim blaming is a logical fallacy
In the past months there have been a wave of women sharing their sexual assault stories, some of whom are from Montgomery County. And yet, a common trend in all of these stories is the normality of victim blaming. 
From RAINN (Rape, Abuse, and Incest National Network), sexual assault is defined as "sexual contact or behavior that occurs without explicit consent of the victim." This can include unwanted fondling/sexual touching, penetration of the victim's body, and more. Sexual assault could essentially happen to anyone, and the perpetrator could be anyone. 
Victim blaming according to The Atlantic is "Any time someone defaults to questioning what a victim could have done differently to prevent a crime, he or she is participating, to some degree, in the culture of victim-blaming."
Though the definition of sexual assault might seem clear, it is still common within victims to not report their experience, or doubt their experience. In reality, only about 15.8 to 35 percent of victims report their assault. There are many reasons for the absence of sexual assault reports, but victim blaming plays a major role.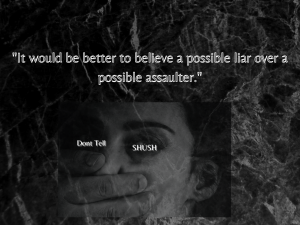 Throughout the world, but especially in the media, victim blaming is very common. When a victim shares their story, it is expected for the media to avoid the accused, and use the victim's story to betray them. This is often seen as imputing their assault to the clothes they were wearing and what they were doing to seduce the assaulter, calling them of "liars" and "attention seeker."
It might be made to seem different, but the majority of sexual assault cases are not false. The percentage of false reports are in between 2 percent and 10 percent. Even with that percentage, most perpetrators do not face jail and/or prison time. Despite this, victim blaming is still too common.
So rather than blaming the victim for being a victim, eradicate the mentality of doubting the victim. There will always be a small possibility that the report is false, but not only is it unlikely, there is a larger chance the perpetrator will not be prosecuted. It would be better to believe a "possible" liar over a "possible" assaulter. 
It is already a challenge coming forward about such a traumatic event, so disregarding the victim's experience and passing it off as false will only make it almost impossible to open up about it in the future. 
Hits : 1923
Leave a Comment
About the Contributors
Ayslinn Villalta, News Managing Editor
Ayslinn Villalta is a senior at Watkins Mill High School. She is News Managing Editor and webmaster for The Current. She is currently in the International...
Mina Graham, Associate Editor
 Mina Graham is a Senior at Watkins Mill High School. She is part of NHS, ACES, the Social Awareness Group (SAG), and plays varsity tennis. She has plans...