Possibly exposing teachers, students to COVID-19 through phasing is a slippery-slope
In the midst of online school, Montgomery County Public School officials are continuing the search for a safe "in-school" plan as Montgomery County COVID-19 cases reach an all time high and the county falls back on tighter COVID-19 restrictions. However, as MoCo, once again, leads the charge in the number of COVID-19-related deaths (29,030 cases and 909 deaths, as of November 16) this proposed plan appears both imprudent and tone-deaf.
As a high school senior, blended virtual learning is both beneficial and a struggle for me. The college preparation process seems to proceed much smoother, but the support that would be readily available at school is nearly absent. As an advocate for equitable education, I am concerned. I recognize that the struggle for equitable education includes the rights and protection of teachers, and I am concerned about the health and well-being of my teachers as we plan for this second semester. 
Additionally, some parents would prefer their child to participate in "in-person" contact sports in order for them to be scouted and receive scholarships.  They will not be able to be scouted, however, if their health is deteriorating due to exposure of COVID-19. The harsh reality is that our priorities as a society that is dependent on "looking out for their fellow man" is rapidly changing due to an airborne virus that is causing us to examine our own mortality. 
"We certainly know that the metrics over the last few weeks have not been as positive as we would like for them to have been … but that doesn't mean that we're not going to continue to plan and work and move forward with our goal," Superintendent Dr. Jack Smith said in response to tweaking plans as the pandemic progresses. "And our hope is that we can begin to bring students back into the physical spaces that we all think of as school."
While I acknowledge the importance of "in-person" education, phasing isn't ideal for teachers. In a hybrid model, teachers with young children suddenly have to find childcare for their school-age children for the days when they are not in person. And all teachers will be responsible for managing both the in-person students at the same time as monitoring their virtual classrooms—all while maintaining proper social distance, making sure students keep masks on, and worrying about their own safety.
Instead of focusing on blending in-person education and virtual learning, I suggest that MCPS officials improve online learning, with more resources for students most impacted by COVID-19 and the online platforms used during online school. 
For example, "take-home technology" desperately needs to be officially established. According to Pew Research Center, "Roughly one-third (35%) of households with children ages 6 to 17 and an annual income below $30,000 a year do not have a high-speed internet connection at home, compared with just 6% of such households earning $75,000 or more a year. These broadband gaps are particularly pronounced in black and Hispanic households with school-age children – especially those with low incomes." This contributes to the "Homework Gap" that is exacerbated by COVID-19.  Now more than ever, we see the importance of high-speed internet and WIFI access in 21st-century learning. 
This is further compounded by statistics in which African-Americans and Latinos account for much of the hospitalizations for COVID-19. Watkins Mill alone has roughly 81.4 percent Latino and Black student population, and 51.4% of the entire student population is FARM (Free and Reduced Meals) students. With no further comments from MCPS concerning parent-teacher associations providing additional cleaning supplies, less affluent schools such as Watkins Mill and other Down County Consortium schools will face the repercussions of that decision.
Let's not forget the inefficiency of Synergy, students in special education, and the mental health of students and teachers, which would rapidly deteriorate if we learn in person. The mortality rate for young people is incredibly low, in comparison to those older than us, but we still have the likelihood of bringing it home to our relatives, and studies are still being conducted for the long-lasting effects of COVID; this virus is still mutating.

The weight of being held responsible for a teacher contracting COVID-19 is more disturbing than quarantining at home, knowing that I am keeping my school, family and myself safe.  I do not want to be the reason my teachers die, nor do I want to be the reason my nearly 70-year-old father dies at home. 
The best scenario is to phase in students with disabilities and ESOL students who are starting, emerging, and developing (Levels 1-3), while keeping other students safe at home. With questions unanswered and COVID-19 cases and deaths in Montgomery County rising once again, the safety and well-being of everyone needs to be considered. Montgomery County, focus on the safety of our students and staff, and don't be tone-deaf. I know you can hear us.
Hits : 674
About the Contributor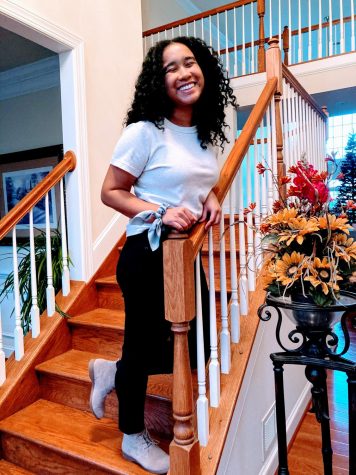 Grace Edwards, Editor-in-Chief
Grace Edwards is a senior at Watkins Mill High School and Co-Editor-in-Chief for The Current. She is a straight-A student who enjoys playing her violin....