Orange Nation hosts virtual social justice & COVID-19 Town Hall
As the George Floyd protests persist and takeover the news and social media, Watkins Mill High School's Orange Nation hosted a Virtual Town Hall on Wednesday, June 3 to discuss the murders of George Floyd and Breonna Taylor, the Black Lives Matter protests, and how to cope with what's happening during COVID-19.
"From the social studies perspective, [this Town Hall is an example of] what we preach in the classroom, especially in [U.S Government courses]," social studies resource teacher Lauren Squier said. "The only way you see change is by civic engagement. Even though some of [the students] aren't eligible to vote yet, [they're] still able to voice [their] opinion, participate, [and write] letters to [their] local leaders."
Interested students filled out Google forms with questions and concerns prior to the event. Additionally, students received access to a list of educational resources concerning social justice and COVID-19. "I thought it was amazing that Orange Nation put together this Town Hall for us. It really showed us how our school stands by us in times of need," junior Alyssa Holt said. "The Town Hall itself was amazing. The fact that we were able to talk in an open environment about today's issues and how we felt made it that much better." 
Staff Development and Academic Intervention teacher Kerrin Torres-Meriwether, math teacher Sarah Bailey, and English teacher Jamaly Allen facilitated conversations concerning previously submitted questions, frequently pausing to allow students to speak with their own questions and concerns.
"We wanted to make sure that kids had a platform to speak their truth, and talk about how they felt, talk to each other, [and] get some advice from adults who have gone through like things before," science teacher Laura Davis Vaughan said. "It's all about [the students]. Nothing we do without [their] voice means anything. We have an obligation to make sure that we have some way for students to speak [about this topic]."
"I thought the Town Hall was really important [because] the Watkins Mill community [was] showing that they did support the [Black Lives Matter] movement. [The Town Hall] gave a safe space for students, teachers, and administration to just talk about what's going on, [and] how we're feeling," junior Comfort Oshagbemi added. "[This] was not a random week. We needed to, definitely, take time to talk about these really big issues that are affecting our community, and will affect the Watkins Mill community."
Nearly 20 students attended, with other staff members present, serving as hosts and Zoom monitors such as the school psychologist Margo Neff, science teacher Matt Reese, school counselor Mike Ryan, MCPS SSL office coordinator Shelly Cherry, and MCPS Student Leadership Instructional Specialist Donna Kleffman. 
"Watkins Mill has always been a place that is conscious of what's going on, not only in the school but in America," Allen said. "There was someone in each of our backgrounds that helped us [either] see the way, or help us along the way. That's what we're trying to do. We're trying to pay it forward, [and] give [support] back to [the students]," Allen added. "It's in my blood to protest. It's in my DNA to support what's right and to fight for it."
"As educators, [we see ourselves as] people who can give [students] a platform, and people who will defend [and] protect [students] if anybody tries to come [after them]," Davis-Vaughan said. "This is literally our job, to help [students] lift [their] voices, help develop what [students are] thinking, process [their] emotions, and help [them] put [their] voices out there in a way that can affect positive change. [The students] are the future. [They] are going to be the world changers, we are old. Our job is to help [them] make it happen."
After an extended discussion concerning protests, Davis-Vaughan initiated a short discussion on safe and healthy measures to take for those interested in protesting. "We can't ignore the fact that [COVID-19] is still going on, and [that] African Americans are vastly overrepresented in the numbers of people who are ill," Davis Vaughan added. "The African American community is already overly exposed. We need your voices, so we need you to stay alive."
"I am so proud of our students who joined the Town Hall, and those who stand up to injustices like the murders of Breonna Taylor and George Floyd, and take action to change our community," Torres-Meriwether added. "[Watkins Mill students have] done so much [like the] Ferguson Town Hall [concerning Michael Brown], [the] Trump Election Walk Out, [and the] Parkland Shooting walk out/rally. This isn't new for WM students. Our community should be proud."
Hits : 2200
About the Contributor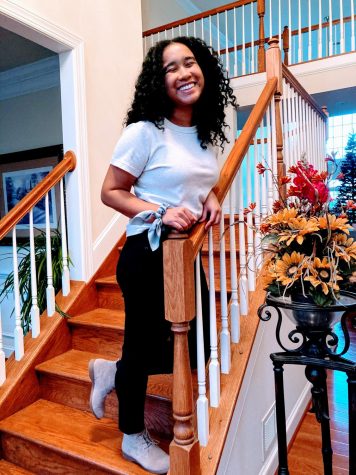 Grace Edwards, Editor-in-Chief
Grace Edwards is a senior at Watkins Mill High School and Co-Editor-in-Chief for The Current. She is a straight-A student who enjoys playing her violin....