What's coming to Netflix this May
May has begun, and with a new month comes new things to watch on Netflix. Since we're all stuck at home with tons of time to binge-watch shows or movies, here's what is coming to Netflix this month.
If you don't know this movie, you should. Starring Jim Carrey as Ace Ventura and Courtney Cox as Melissa Robinson, this (slightly raunchy) comedy follows the shenanigans as Ace searches for a missing dolphin, the mascot of the Miami Dolphins. The first time I watched this movie was a VHS tape at a cabin with friends on a tiny television, regardless, the memory is priceless. The movie is available starting today, May 1.
Here's a throwback to a childhood movie for all our seniors! Tim Burton's take on Roald Dahl's book Charlie and the Chocolate Factory features Johnny Depp as Willy Wonka, the owner of a candy factory. He opens up a tour for five select kids and chaos ensues from there. The movie is definitely a good one to watch and is family-friendly. Willy Wonka and the Chocolate Factory, the 1971 version directed by Mel Stuart and starring Gene Wilder is also on Netflix. Both movies are available starting today, May 1.
Starring Amanda Bynes, this 2003 movie features an American teenager who sets off to find her father. However, when she does find him, she also finds that he is a wealthy British politician. As she settles into his lifestyle, she finds out she is a scandal that could cost him the election. The movie is available on May 1.
For any comic book fans (or anyone who is already a fan of the show), season four coming to Netflix allows you to spend your quarantine binge-watching this series, based on the Archie comics. The show stars Lili Reinheart, Camila Mendes, KJ Apa, Madelaine Petsch, and Cole Sprouse along with other notable actors and actresses. The show will be available on May 14.
Based on a true story, this movie features Anna-Sophia Robb as Bethany Hamilton—a surfer who loses an arm after a shark attack. Also starring Helen Hunt, Carrie Underwood, and Dennis Quaid, the movie follows Hamilton as she struggles to find her way back to the water and back to her love for surfing. The movie will be available on May 17.
For any parents out there who need to entertain a screaming four-year-old during quarantine, Netflix has your back. On May 15, The Wiggles will be available for preschool kids and toddlers to watch (or high school students, we don't judge here at The Current).
Also, while the following shows aren't just now coming to Netflix, they might be of help: Octonauts, Carebears, and My Little Pony are available to help parents who are on the verge of ripping their hair out.
Patton Oswalt: I Love Everything – Netflix Comedy Special
Patton Oswalt is a well-known comedian with stand-up specials like Annihilation and Talking for Clapping already featured on Netflix. There hasn't yet been a trailer released but the special will debut on May 19. Fun fact: Oswalt also voiced Remy in the movie Ratatouille.
There are so many more movies and television series coming to Netflix in May. Let us know your favorite movie or show on Netflix in the comments—there can never be too many recommendations (especially during quarantine).

Hits : 1067
About the Contributor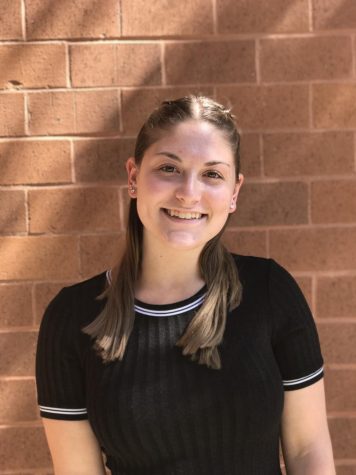 Jade Pinkowitz, Editor-in-Chief
Jade is a senior at Watkins Mill High School and Editor-in-Chief for The Current. She is a four-time varsity girls volleyball player and involved many...