Five recipes to curb your quarantine cravings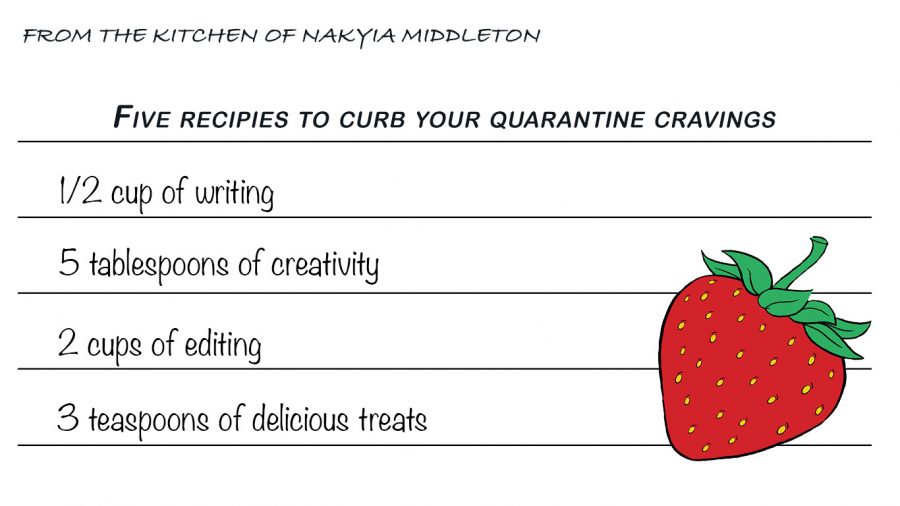 We're all stuck in quarantine, and if you're anything like me, you've been finding new hobbies and eating a bunch of food. Here's a perfect way to combine the two: five recipes to enjoy while stuck at home.
1) Strawberry Cheesecake Bites
strawberries
4 spoonfuls of cream cheese
1/2 cup powdered sugar
vanilla extract
graham crackers
Using the knife, hollow out the strawberries. Then, in a bowl, mix four spoonfuls of cream cheese, half a cup of powdered sugar, and three teaspoons of vanilla extract. Fill the strawberries with the mixture and put them on a plate. Smash graham crackers in a bowl and roll the strawberry in the crushed graham crackers to cover the filling. Then, let them sit in the fridge until the cream mixture has set and enjoy.
2) Chocolate Lava Cake
1/2 cup powdered sugar
salt
cocoa powder
4 eggs
1/2 stick butter
a Ghiradelli semi-sweet chocolate bar (can substitute any chocolate bar)
3 bowls
ice cream (optional)
caramel (optional)
In one bowl, mix a half cup of powdered sugar and a little salt (use as much as you'd like depending on how sweet you want it). In another bowl, beat only the yolk of four eggs before adding them into the bowl with powdered sugar and salt. Mix until it's smooth.
Chop the chocolate bar into small chunks. Add half a stick of butter and the chocolate in a bowl. Then, put it in the microwave until melted (should take about 30 seconds) and mix till it's smooth. Add this mixture with your powdered sugar and egg mixture to create the cake mix.
Coat the inside of another bowl with cocoa powder using butter on the sides to keep it stuck to the side. Add the cake mix into the bowl, fill a little past halfway. Bake in the oven at 475 degrees for 11 to 15 minutes. Once out of the oven, place the cake onto a plate and let it cool. Add powdered sugar, ice cream, and caramel for extra.
3) Pigs in a blanket
croissant rolls
butter
mini sausages/hot dogs
bagel sesame (optional)
Cut each croissant roll into three pieces. Roll the mini hot dog and/or sausage on the dough, rolling from the thick side of the dough to the skinny side. Place them on a baking tray, coat them with melted butter, and sprinkle as much bagel sesame as you want on each. Bake at 375 degrees for about ten minutes. Once cooked, let them cool; add any toppings or sauce you'd like and enjoy.
4) Cinnamon roll waffles with homemade icing
waffle maker
cinnamon rolls
1/2 box cream cheese
butter spray
1/2 cup powdered sugar
2 or 3 tablespoons maple syrup
1/3 cup milk
Spray butter on the waffle maker and place the cinnamon rolls in the waffle maker. Cook for about two or three minutes, or until golden brown on maximum heat. To make the icing, mix half a box of cream cheese, 1/3 cup of milk, two or three tablespoons of syrup, and about half a cup of powdered sugar until it creates an icing texture. Place the waffle on a plate and drizzle the icing over top; enjoy.
5) A big sugar-loaded cookie-brownie
KitKats
Reese's
Snickers
Twix
Chocolate chip cookie dough (substitute whatever flavor you'd like, plain sugar cookie dough is good too)
*You can actually use any four candies you would like, but these four work best with the chocolate chip cookie dough*
First, roll half of the dough on a pan. In one corner, place KitKats. In another corner, place Reese's; repeat with the next two corners and candies. Using the rest of the cookie dough, cover the candies. Heat oven to 375 degrees and follow the baking instructions on the cookie dough package. Now you have a big plate of diabetes!

Hits : 727
About the Writer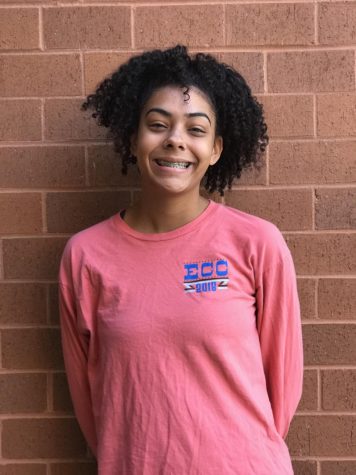 Nakyia Middleton, Editor
Nakyia Middleton is the captain of the Girls Varsity Volleyball team and a member of student leadership and an Editor for The Current. She aspires to play...