Robotic babies teach sophomores how difficult caring for an infant can be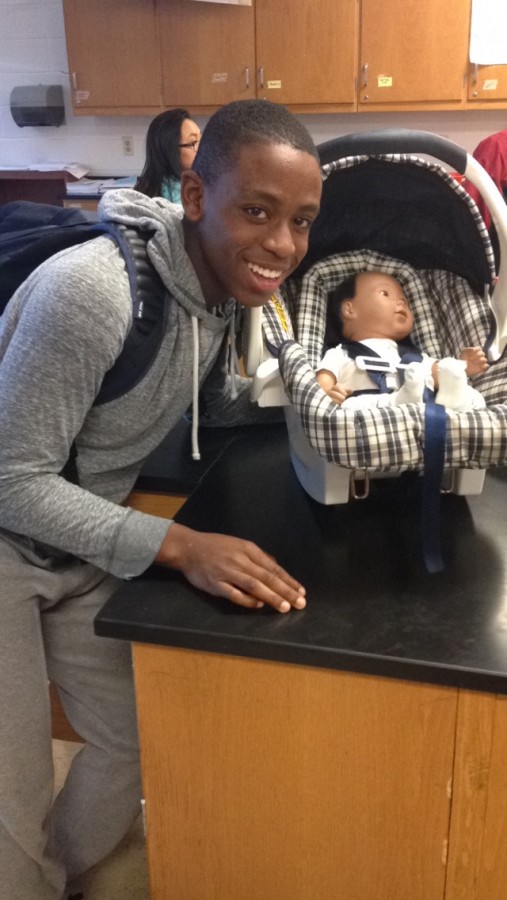 Most superheroes team up to stop world domination, but the heroes of the "Crying Baby Force" team up to stop rising teen pregnancy rates and teach the students at Watkins Mill the struggles of parenthood.
The "Crying Baby Force" was originally created to develop teens' understanding of the social and economic effort of caring for another because it gives students a first-hand experience with the results of teen pregnancy. Watkins Mill has had the babies for ten years now. "We were the recipient of [a] grant," health education teacher Jody Tyler said. "[Because] we had a high teen pregnancy rate."
Made to be as tough as teen parenthood, the babies electronically monitor their treatment throughout the day, which contributes to the student's' grade on the assignment. This prevents people who don't take the assignment seriously from mistreating the robotic baby, which can be a real challenge.
With all of this being thrown at sophomores, these babies are often the bane of their existence for a day, as students are required to care for a baby as an assignment for the class. When the babies cry and disrupt classes, the "parents" need to take them out into the hall to feed them, change them or just hold them.  
The babies "have programs…in them [that control their behavior]," Tyler said. These programs randomly make the baby cry for a variety of reasons. It can indicate that its "parent" needs to change its diaper, feed the baby with a magnetic bottle feeder, burp the baby, or just walk around with it to calm it down. Students are fitted with a magnetic wristband so that only the baby's parent can care for the individual baby when it needs attention.
While they are an inconvenience, the "Crying Baby Force" seem to be doing their job. "It was pretty irritating," sophomore Kelvin Quacoe said about being a father for a day. "But I think this assignment is useful because [without it], I wouldn't ever know how to take care of a baby." Many students don't like the babies, but they acknowledge the importance of the assignment and that it could have an impact on future life choices.
After ten years, it's still hard to call them babies, since they came from a factory. So as the "Crying Baby Force" take their leave until later this semester, the students who suffered with them will never forget the experience they had with them.  And as a side note, "It would be great if people stopped hitting the babies," Tyler added.

Hits : 918
About the Contributors
Angelina Walton, Feature Editor
Angelina Walton is the features writer at Watkins Mill High School. She has been writing for a couple years and is excited to be apart of the newspaper...