Burrows teaches foreign exchange students about American culture, life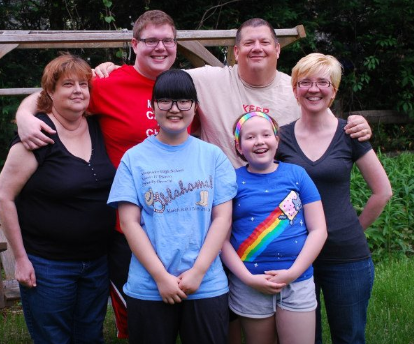 Hola! Ni Hao! S̄wạs̄dī! Konnichiwa! Annyeonghaseyo! Zdravstvuyte! Sälemetsiz be! Czesc!
Math teacher Stephen Burrows knows how to say "hello" in many different languages because he has hosted six foreign exchange students.
Burrows was born in Toronto, Canada. He speaks English and French fluently, as well as partially speaking Russian, Chinese, Thai, and Ukrainian. Montgomery County Public Schools currently allows foreign exchange students to enroll in the system (provided the required forms are filled).
Burrows has hosted six foreign exchange students in total between 2008 and 2019. His host students were from Thailand, South Korea, Russia, Ukraine, Kazakhstan and China. "They're just wonderful and [they are] just like us as well," Burrows said.
"My wife was a foreign exchange student too, but we also wanted to host to expose our daughter to different cultures," Burrows added. Becoming a host requires you to find an agency and fill out the host application, go through background checks and interviews and choose a student from a list based on a short biography the student wrote.
Burrows' primary goal is to expose kids who are unfamiliar to American language and culture to life in America, which is why he mainly chose Asian and Western European students. "Part of the exchange is basically [the host student becomes our] son and daughter for the time [they are] with us," Burrows said. Burrows highly recommends that students take advantage of studying abroad if they have the opportunity to do so.
"Understanding cultural differences [can be important]. The best example would be my Thai student, [Mikey]. He didn't know how to use our washroom because they are different [in Thailand]," Burrows added. In some parts of Thailand, hoses are used instead of toilet paper.
Burrows claims the most common challenges he has seen the kids face are language barriers and differences in cultures. Study abroad students are able to call or video chat with their parents at any time to avoid feeling homesick. Burrows is still in contact with some of his former exchange students. "We've met Mikey's parents… and all the Russian parents and they are just so grateful that we would host," Burrows said.
Hits : 2456
Leave a Comment