Minority Scholars Program hosts Town Hall on microaggressions
Watkins Mill High School's branch of the Minority Scholars Program hosted a "Courageous Conversations" Town Hall on Friday, January 17, explaining what microaggressions are, their impact, and the importance of having conversations to address microaggressions.
"A microaggression is a statement [or] action that can indirectly, subtly or unintentionally discriminate against members of a marginalized group such as a racial or ethnic minority," junior Comfort Oshagbemi said. Microaggressions can be seen almost anywhere and most of the time people do not realize that they are commiting one.
At the town hall, student speakers explained what microaggressions are and gave some hypothetical examples to help the audience better understand. Students from all over the county were invited. The audience participated in explaining the microaggression in each scenario.
"Microaggressions are more than just insults, insensitive comments, or rude behavior. They're something very specific: the kinds of remarks, questions, or actions that are painful because they have to do with a person's membership in a group that's discriminated against or subject to stereotypes," senior Fatou Jobe said.
Senior Leah Niles and juniors Grace Edwards and Comfort Oshagbemi shared their experiences with microaggressions. Afterwards, audience members asked questions about their stories and how they affected the speakers. There was a short intermission before audience members received the opportunity to share their stories experiencing microaggressions.
"I learned that a lot of my friends and classmates have [experienced] microaggressions," junior Francisco Carbonell said. "The stories that people told were really inspiring and mind-opening. I could relate to some of the stories, especially Comfort's story about being an immigrant." Oshagbemi shared her experience of moving to America when a teacher targeted her in elementary school because she was taught the Queen's English in Nigeria.
"I think it is really important to talk about things like [microaggressions] because they happen to minorities very often and a lot of times people don't know how to properly address it or how to properly educate people about it," senior Taylor Leonard said.
MSP is a student-led organization that aims to close the achievement gap across Montgomery County Public Schools. Jobe and MSP sponsor Joye Saxon were discussing problems they saw at WMHS at an MSP meeting when they thought of microaggressions. The WMHS branch of MSP decided to host a town hall to inform students of the reality of microaggressions and how to face them.
"There was a lot of audience participation which, at first, I was kind of scared [for] because I know a lot of people are uncomfortable with discussing the topic," Jobe said, "[but] this is a safe space to talk about [microaggressions] because other people have been through it." MSP is hoping to have another town hall with more schools sometime in the spring to discuss a new topic.
The town hall closed by discussing how to have a "courageous conversation." Jobe explained how to assess the situation: try not to assume the worst and maybe ask the person to repeat themselves (safety is the biggest concern), consider the goal and feelings, model the behavior wanted from the other person, and respond calmly and productively.
"As minorities, non-minorities, or even just allies, your job is to educate. It is to make sure that something like this doesn't happen to anyone else," Jobe added. "That starts with just one person. It makes a big difference."

Hits : 688
About the Contributor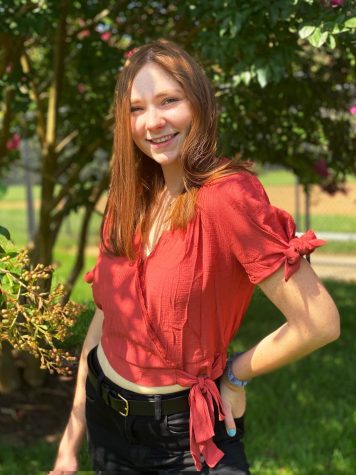 Katelyn Burley, Editor-in-Chief
Katelyn "Katie" Burley is a senior and the Co-Editor-in-Chief of the Watkins Mill High School Current. She is in the IB Career Program for Early Childhood...