Indoor track runs into first place, finishes with top ten slots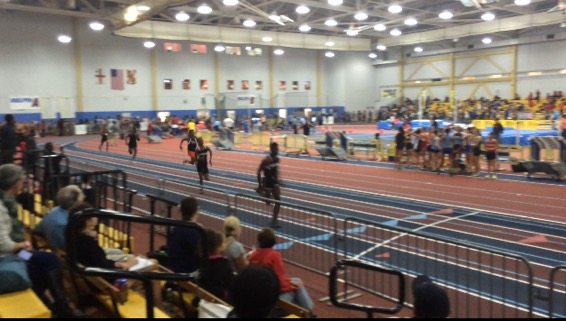 Watkins Mill indoor track and field looks to improve their times over the break at MCPS Meet 3 on December 29 after running hard in their meet on December 10.  They placed well, ending with two first-place finishers, eight top-ten finishers and a school record.
Senior captain Alyssa Rishell finished first in the 800m with a time of 2:22.31, setting a new school record in the event.  Rishell has had a great running career so far and coach Bryant Adams predicted she will continue her success.  Rishell is "going to keep breaking records throughout the season," Adams said. "She looks good and she's been training real well. I am excited to see how the season is going to turn out for her."
Rishell's teammates think highly of her as well.  Freshman Nana Tutu said Rishell "ran the fastest time for the whole meet, she got first in her heat and she had a really good time for her 800."
Tutu is also showing that even though this is her first year running, she will not go down without a fight, placing fifteenth in the 500m with a time of 1:27.53.  Tutu "did well in the 300m, and she also ran the 500m. Both times she did well," Rishell said.
Senior Lisa Franco placed third in the 800m, finishing with a time of 2:25.51, which also broke the school's record that she set last year. Franco added the other first place finish, finishing with a time of 5:42.77 in the 1600m. Rishell said, "Franco came [first] in her mile and it was the first mile she ran all season."
This is the first competitive meet after two very intense scrimmages, in which Rishell and Franco traded control of the 800m record.  Adams predicts that the two will continue to fight for the record throughout the season.
As for the first meet of the season, it was a great success for the team, especially for the girls.  The girls relay teams tallied two fifth places finishes in both the 4 by 200 and 4 by 400. Not to be outdone, the boys 4 by 800 relay team placed fifth as well, finishing with a time of 9:10.90.
Senior Schezarone Carter stood out for the boys, placing seventh in the 55m with a time of 6.75, and eighth in the 300m with a time of 37.95.
The boys also placed strongly in the 12lb shot put.  Senior Neil Alban threw 35 feet and 10.75 inches, placing seventh overall while junior Connor George placed eleventh, throwing 31 feet and 8.25 inches.

Hits : 877
About the Contributors
Alex Wright, Sports Editor
Alex Wright is a Sports and News Editor at The Current. He is a junior and this is his second year writing for the paper. Writing has always been a strength...