Wolverines maul Bengals in victory over team that ended playoff run last year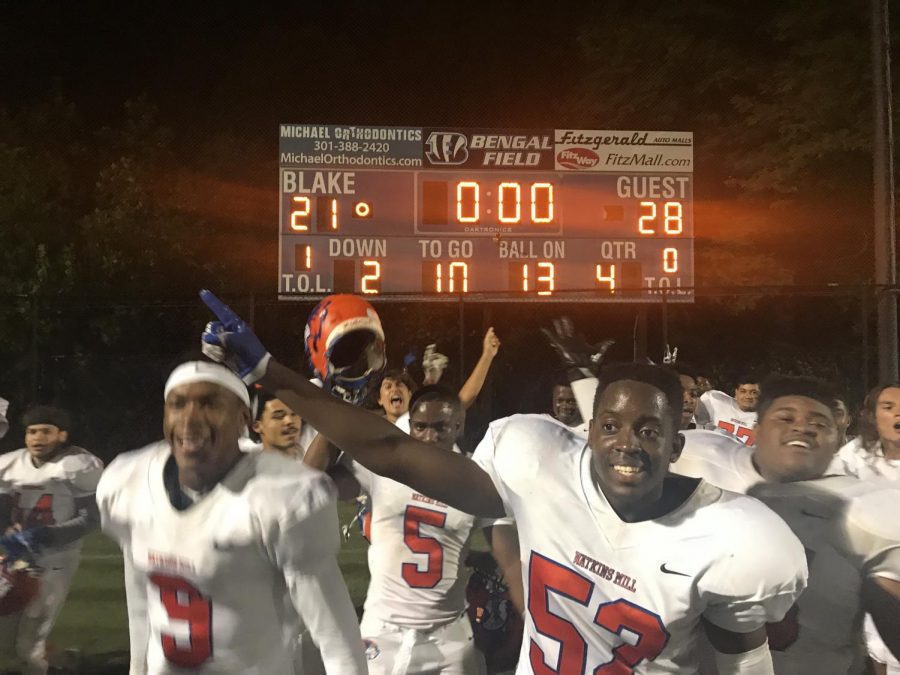 Wolverines maul Bengals in victory over team that ended playoff run last year
Jamaly Allen
Arthur Siquiera and Isreal Safo
September 23, 2019
Hang on for a minute...we're trying to find some more stories you might like.
Wolverine varsity football avenged their 2018 playoffs loss to the James Hubert Blake Bengals on Friday, September 20 at Blake High School. The Wolverines secured a major victory Friday over the Bengals to win the 2019 Inter County Connector championship game. 
The game featured junior Baebaa Sayeh putting up 206 rushing yards and breaking the season rushing record with a 70 yard rushing touchdown, dropping six points on the board in the first quarter. "We played hard in practice and told ourselves we would run our plays and we executed it how we were supposed to," Sayeh said. "We just have to keep working hard and wins like this will keep coming."
Even though the boys lost against Blair High School last week, they were determined to pull off a win against Blake. "I wasn't happy with the performance at Blair [last week]," junior Peter Kikwata said. "So we went 100 percent in practice every single day and put in work like the team I know Watkins Mill is. So to see that all the hard work paid off was a great feeling."
The Bengals put up 21 points in the second quarter with a 40-yard rushing touchdown by Blake High School senior Isaiah Smith. The 'Rines responded with Kikwata catching a 38-yard touchdown pass off a slant from junior quarterback Kyle Wingate Jr. to give the 'Rines 12 points.
"There's not a big difference in team effort or camaraderie," coach Michael Brown said. "It's just that each year we're getting better: my coaches, the players, and I are all getting better at the small things."
The third quarter of the game went scoreless as both teams' defenses held the score steady. "Last year they took our soul from us because it was a hard loss," junior Kevin Mensah said. "It was win or go home and sadly we lost last year, but this year we came back stronger." 
The fourth quarter started out 12-21 as the 'Rines came from behind as Sayeh ran a 12-yard rushing touchdown to score, and a successful two-point conversion from senior Darnell Lewis Jr. to bring it 20-21
"I didn't watch the last play of the game," Brown said. "I've been playing football since I was six years old and I've always watched every play, even the stressful ones. But I just couldn't watch." In the last play of the game, even without his coach watching, Sayeh wrapped up the game with a rushing touchdown bringing the final score to 28-21.
The 'Rines play next Friday, September 27 at 6:30pm against the Northwood High School Gladiators at Northwood High School.

Hits : 387