Academy of Finance travels to New York to visit NASDAQ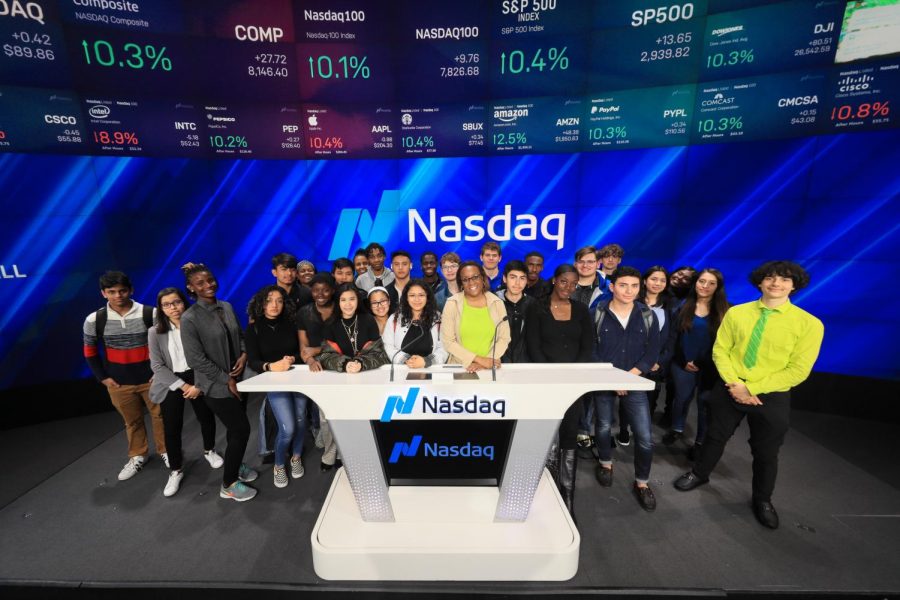 Academy of Finance students traveled by charter bus to NASDAQ in Times Square, New York on Friday, April 26 to participate in the closing bell ceremony.
The field trip to NASDAQ, which has the second largest market value of public stock exchange shares, was open to all students taking the course along with other students who weren't enrolled in the class but expressed interest in the field.
"My favorite part of the trip was getting to visit Times Square, but it was also just a really awesome experience getting to see how stock exchanges work," junior Elias Amaya said. "I am more efficient at managing and saving my money since participating in this course."
During the 15-hour long field trip, students visited the Charging Bull on Wall Street and then took the subway to Times Square where they were given time to eat, shop and explore sites on their own. At NASDAQ, students were able to ask experts questions about their profession while they traded on the floor.
"The Academy of Finance gives us a chance to see real world financial problems and teaches us how to deal and manage circumstances like that," junior Luis Hernandez. "These are the type of classes we need to teach us how to be responsible adults." 
In class, students learn how to manage finances, save for the future, and invest their savings. This trip provided an opportunity for students to experience practical examples of the class curriculum. Because of fundraising efforts earlier this school year, the class was able to decrease the price of the trip to $70 per person.
"My favorite part of the trip was being invited into the studio with the NYC Police Foundation," Acadamy of Finance teacher Sandy Chaplin said. "We were going to watch the ceremony from across the hall. Because the Foundation members were so few, we could all fit into the studio. So, we were given a shout out by the NASDAQ representative while they headed toward ringing the bell."
"[The class] has helped me understand the ins and outs of finances that are very common in the US," junior Precious Agyekum said.

Hits : 1109
About the Contributor
Mariam Bukhari, News Managing Editor
Mariam Bukhari is a junior at Watkins Mill high school and a News Managing Editor for The Current. She is on the class of 2020 student council and Mariam...