Rogers wins Distinguished Service Award for outstanding contributions to community
Alternative teacher Lola Rogers won the Board of Education's Distinguished Service Award, after her twenty-first year working in Montgomery County Public Schools and her fourth year working at Watkins Mill.
The award recognizes people in MCPS who have given to public education. The ceremony was on Thursday, May 2 at Central Office, where Rogers and the other winners received their awards.
"Lola Rogers is one of those people who have really, really given her heart and soul to public education," principal Carol Goddard said. During her first year at the Mill, Rogers helped put together the Youth Summit program, a summer camp for incoming freshman aimed toward reducing anxiety and getting them acclimated to high school.
The award came as a surprise to Rogers, who was not informed about her nomination; she only found out when she received a letter in the mail telling her she had won the award. "I was shocked. I couldn't believe it. I kept reading [the letter] over and over," Rogers said.
Rogers also leads the holiday program to give gifts to disadvantaged families. For Thanksgiving and spring break, she helped give out food and gift cards to families. She works with company sponsors, parents in the community, and teachers to support families in need.  And for Christmas, Rogers posted gift tags with wish lists for needy families, which were purchased by members of the Watkins Mill staff and community.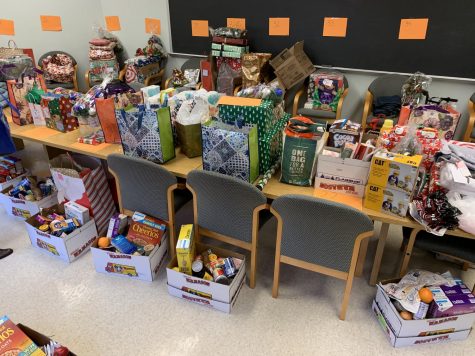 "It's so easy to be negative… like 'I don't like your shirt'… aren't you really glad everybody's got a shirt? I am!" Rogers said.
As an alternative teacher, Rogers assists students with needs such as schoolwork or home life, and holds a type of study hall for students who need more assistance or time. She often stays at school during nights and weekends to support Watkins Mill. She organized meals for the winter sports and football teams before games to provide a family atmosphere.
Last year, former science teacher Matthew Johnson won the Distinguished Service Award. With Rogers' win, this marks the second year in a row that a Watkins Mill staff member has won the award. The two currently work together in organizing Rock the Block. Johnson also felt that it was important that Rogers won the award.
"For the last two years my niche has been the food, and then now this year I've broadened into food and kind of everything else," Rogers added. "Since Mr. Johnson is gone, I'm trying to help fill part of his shoes."
Rogers expressed that her room, D04B, is always open for anyone looking for help. She loves "helping kids reach their potential… because they don't always see it in themselves," Rogers said. "Being older, you just look at them and you think 'Wow, you're going to be an amazing man/woman. '"
Hits : 2346