OLAS win two awards in annual Latin Dance competition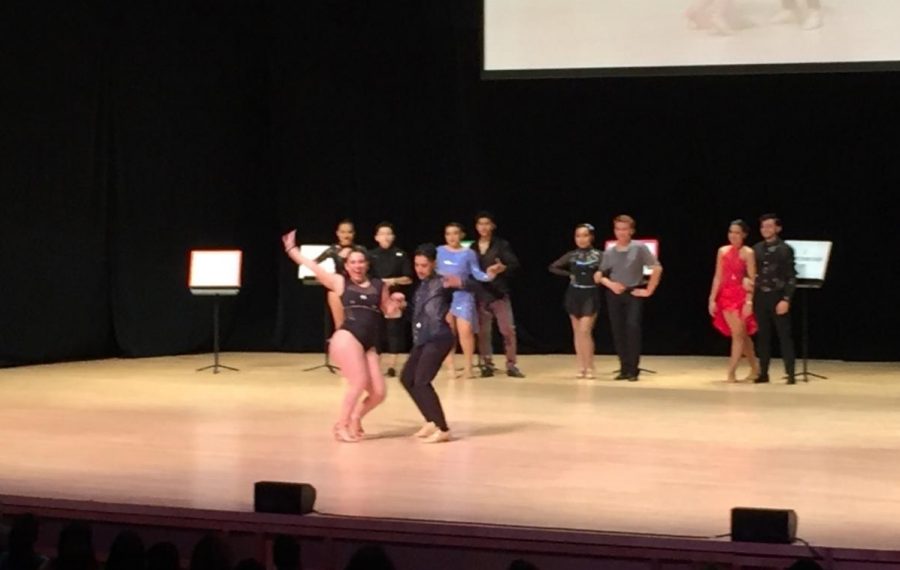 Watkins Mill's OLAS competed at the 19th annual MCPS Latin Dance Competition on Monday, November 19. The competition was at the Music Center at Strathmore in Bethesda, with nine MCPS high schools competing for first place.
The Latin Dance competition allows students to showcase their cultures through dance. The night began with announcements from notable speakers in the county, including Superintendent Jack Smith.
Students represented their schools in eight categories: bachata, merengue, salsa and chacha, parent/student, Jack and Jill, best in show, junior and senior, and alumni.
The dancing began with the couples dances: bachata, merengue, salsa, and chacha. Students danced with  partners as a group before having each of their own 30-second spotlights.
The next couple dance was the parent/student dance. One student and one parent represented their high schools by freestyling to different tracks. Students got to rack up points for their schools as well as have fun with their parent. Watkins Mill took second place in the parent/student category.
Each team had a chance to show off all the hard work they have been putting in for months during the Best in Show section. The Mill got to end the Best in Show category with a bang. "No regrets on that stage whatsoever," senior Alex Santos said.
OLAS alumni Barbara Sandoval, Moises Cisneros, Marlon London, and Martha Melara performed during the alumni section, bringing in a second place trophy for the team.
The last category in the show was the Jack and Jill section. Students were paired up with students from other MCPS high schools. Pairs freestyled to different songs and were eliminated until there was one remaining couple.
OLAS took home two awards for the night. Senior Pier Espejo was awarded the leadership award for the team.
"Even though it's my last school year, it's definitely not the last you're gonna see of Santos in OLAS. Cuando se puede, se puede," Santos said.

Hits : 791
About the Writer
Nana Osei Tutu, Editor-in-Chief
Nana Osei Tutu is a Senior at Watkins Mill and is one of the Co-Editor In Chiefs of The Current. She is involved in many programs at the mill as well ...