The Flops and Tops of Music in 2018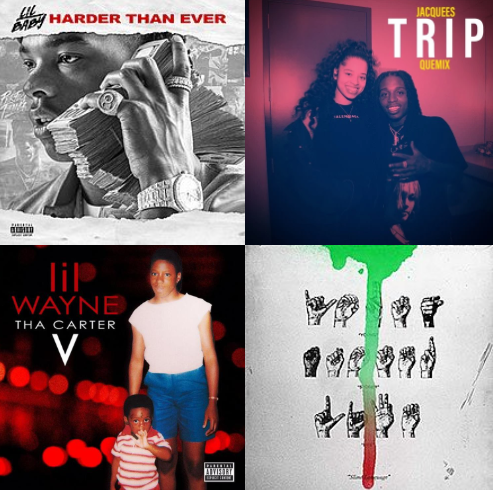 Hang on for a minute...we're trying to find some more stories you might like.
As you walk through the halls of any high school, the same timeless argument can be heard among the groups of opinionated teens. Which artists are the best?
"Drake or J. Cole?"
"Rihanna or Beyonce?"
"NBA Youngboy or Shy Glizzy?"
It's hard, if not impossible, to come to a conclusion when these arguments arise. But as 2018 approaches an end, it's becoming even harder.
Projects drop after projects, leaving fans content after months of anticipation and hype. Then, they add their favorite artist's newest work to their playbook to bring up when someone tries to challenge the greatness of their preferred entertainer.
Even around The Mill, there is much debate and different opinions when it comes to this year's best artist, or even worst. Some of the 'Rines' favorite artists this year included Travis Scott, Drake, Q Da Fool, and SZA. "I also like some trapper music. Free Simba 'til it's backward," senior Jordan Gaboton added.
With countless albums and mixtapes dropping this past year, some are received better than others. "Carter 5 by Lil' Wayne was probably the best. I have never actually found that many cranks in an album, like that's crazy," senior Sam Berhanu said.
"Personally, I think Lil' Baby could've put out much more cranks. He has so much more potential than the album shows," Berhanu added but was quickly refuted.
"He's been putting out music very often right now, and I think he's at a good rate. He just released a collab album with Gunna which showed his reliability to put out endless cranks," Gaboton added.
Finally, some albums just didn't make the cut. It was agreed upon by a majority of students that Slime Language, Young Thug's most recent album, was a flop. "I just think everyone thought it would be better than it was. Chanel was a good song, but the album wasn't all that," junior David Okoli said.
Of course, this isn't even the full extent of the amazing work given to us this year, a year of Nicki vs Cardi and Ella Mai vs Jacquees. We can all reflect on the songs we'll remember forever (and disregard the ones we won't) and look forward to what is yet to come in 2019.

Hits : 812
About the Writers
Annie Riley, News Editor
Annie is a senior at Watkins Mill and a News Editor for The Current. Annie has played soccer since she was 6 and continues to work towards playing in college....
Lauren Flandrau, Sports Editor
Lauren Flandrau is a senior at Watkins Mill High School and is a sports writer for The Current. Flandrau has been swimming on the Varsity Swim Team since...