Voter registration drive helps students prepare for Election Day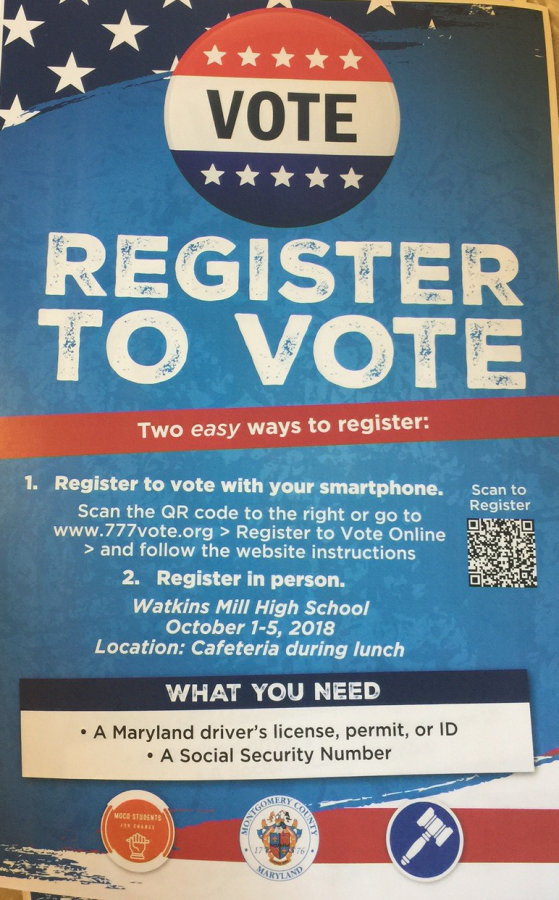 Vicki Wong, Editor-in-Chief
October 2, 2018|91 Views
Voter registration drives by the Montgomery County Regional Student Government Association and MoCo Students for Change are coming to Watkins Mill High School to help students pre-register to vote this week every day during lunch in the mixing bowl.
Adults and students will be available to assist students in pre-registering. Students need to be at least 16 years old, bring a driver's license, permit, or ID, and know their Social Security Number. Posters with QR codes to pre-register online are hung in the hallways.
"We live in a very fortunate society where we can make choices on who our political leaders are," Student Government Association sponsor Lauren Squier said. "There are a lot of people in the world who aren't afforded that opportunity."
Both MCRSGA and MoCo Students for Change partnered with high school SGAs and the Montgomery County Board of Elections to have registration drives at all 25 MCPS high schools. They are staying at schools for a week at a time over four weeks, from September 17 to October 12. They aim to have registration drives every year.
Senior Andre Tulloch is a member of both student groups and serves as a representative for Watkins Mill to help make sure the event goes smoothly. "I want students to know that there are leadership opportunities out there for students to be a part of civic engagement and be an active part of their community," Tulloch said.
"The more [students] can get involved, the more options and opinions they can share with their elected officials, the more they'll feel like this is their country," Squier added. "They don't just live in it, but they're actually a part of it."
Midterm elections are coming up soon and the deadline to register for Maryland is October 15. Election Day is on November 6 and there will be no school for students. Students who would like to volunteer at the polls may sign up in the cafeteria and receive up to $210 or 25 Student Service Learning hours.
"I feel like we are the future of the world as a whole, so starting early and knowing what we want and what we're dedicated in is very helpful," Tulloch added.

Hits : 1156
About the Writer
Vicki Wong, Editor-in-Chief
Vicki Wong is a senior at Watkins Mill and one of the Co Editors-in-Chief. She has been writing for The Current since her sophomore year and primarily...