Class of 2018 finishes high school with touching graduation ceremony
Hang on for a minute...we're trying to find some more stories you might like.
Watkins Mill's class of 2018 graduated from DAR Constitution Hall on Friday, June 8 at 10am. The ceremony included speeches from staff members and students, and performances from the chorus, band and orchestra.
The morning began with principal Carol Goddard's opening remarks explaining that graduation is her favorite part about being a high school principal. Goddard was followed by senior class vice president Britney Berry's introduction of SGA president and student speaker Naing Oak.
Oak made an inspiring speech about being a shy boy and coming out of his shell to become SGA president. He let his classmates know that it is okay to take risks and go out of their comfort zone. "At the end of the day, there is no room for growth in the comfort zone," Oak added.
Watkins Mill's chorus performed "Bridge Over Troubled Water" and introduced the senior class adviser and social studies teacher, Katie Pesce. Pesce reminisced about the past four years and how the class of 2018 has grown so much. "It seems like yesterday that you guys were freshmen in my US history class," Pesce said. Her speech included advice for the seniors in the years to come and concluded with "Once a 'Rine, always a 'Rine."
Soloist Eboni Cooper sang "I Was Here" by Diane Warren, followed by the introduction of senior class president Sarah Elbeshbishi by class vice president Fiona Franke. Elbeshbishi expressed how proud she was of her classmates and all of their accomplishments. The speech consisted of reminders that "your failures are not reflections of who you are." The speech concluded with Elbeshbishi congratulating the class of 2018.
Jennifer Santos
Franke became emotional as she began to introduce faculty speaker and science teacher, Matt Johnson. Johnson began his speech with expressing his love for the class of 2018, thanking the graduates, and expressing how much he would miss each and every one of them. He pointed out how he was reluctant about coming to Watkins Mill because of the rumors, but now knows it was a great choice.
Johnson made a heartwarming speech that moved and inspired every single person in the room. The speech included four scenarios he had encountered at Watkins Mill, which prompted many laughs in the room. "Go out there, be your best self, stay positive, don't be afraid to take risks, and believe in yourself and believe in your dreams," Johnson concluded.
Jennifer Santos
"You and only you are in control of your own destiny," Goddard said. Goddard pointed out all of the achievements of the class of 2018, including how much spirit they brought back to the Mill. She congratulated the graduating class and introduced board of education member, Judith Docca. Docca presented the diplomas and congratulated the graduating class.
The ceremony concluded with Berry explaining the significance of the rose handed to each graduate and the turning of the tassel.

Hits : 990
About the Photographer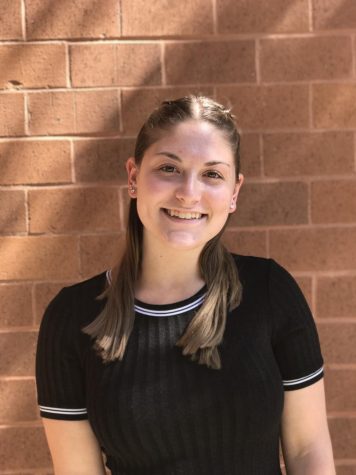 Jade Pinkowitz, Editor-in-Chief
Jade is a senior and Editor-in-Chief for this year's newspaper. She is a four-time varsity girls volleyball player and is involved in many clubs at Watkins...