Freshman defies odds to beat brain tumor, succeed in school
He has been in advanced classes since the fourth grade. He plays the viola. After school, he trades his binder for his French horn and syncs his steps with others.
Who knew that a student born with a brain tumor could do all of that?
Freshman Victor Quintanilla had a tumor since birth, but it was not discovered until near the end of sixth grade. "I actually had it since I was a baby, but because I was born in El Salvador, we didn't know anything about that," Quintanilla said.
"I was a bit angry, but at the same time I was trying to calm my mom, because four years earlier my grandpa died of cancer in his lungs," Quintanilla added.
The cancer partially took Quintanilla's vision in his left eye and led to him having two surgeries. "I have like, one incision on the left side of my head and two little holes on the right," Quintanilla said.
Everyday actions were difficult after the tumor was removed. "[I wasn't allowed or able to do ordinary] things like [carry] a backpack or [go] up the stairs." Even going outside is a challenge. "Now when I go outside, I'm not able to see through my left eye because of light sensitivity," Quintanilla said.
Luckily for him, the tumor was not big enough to do any more damage. "If it was bigger, it would crush the nerve behind my eye even more, and I would not have been able to see through my left eye."
The tumor affected his parents as well. "My dad didn't really do anything, just stays quiet and doesn't like to say a lot. My mom actually stayed with me the whole time I was in the hospital," Quintanilla added.                                                                                                                                                                                                                   When Quintanilla was finally able to go to school again, he had to catch up, but he never considered giving up band. He likes band because, "You get to meet new people and you get closer to them than you do with people in your class."
Despite all that he has faced, Quintanilla's outlook remains positive.  Even if a situation seems hopeless, he says to always "Keep a smile."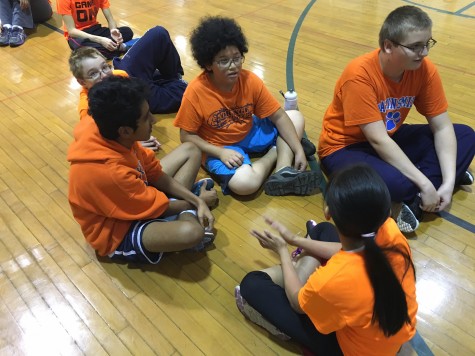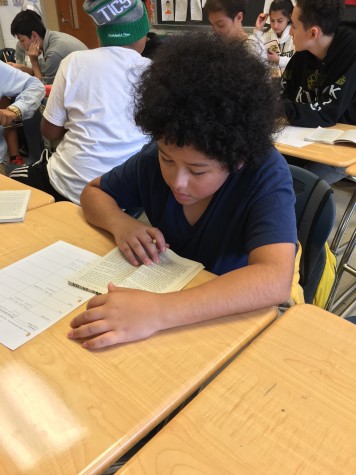 Hezekiah Likekele
Freshman Victor Quintanilla completes an assignment in his pre-IB English class
Hits : 1570