Records reveal 3 MCPS high schools named after slave owners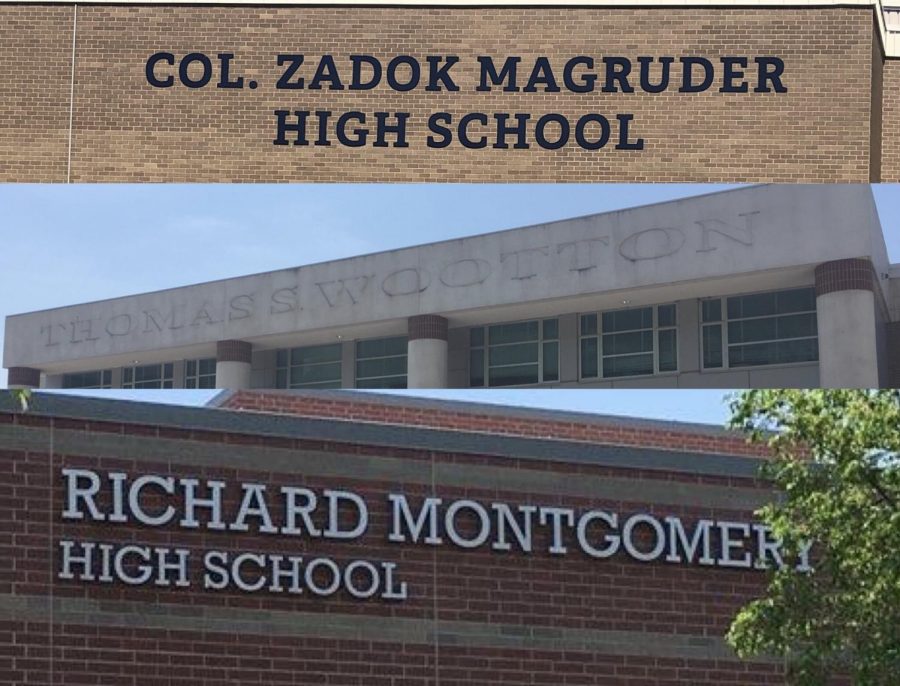 There are 25 public high schools in Montgomery County. Ten of those schools are named for people. One of those people was black. But three of those people owned slaves.
Colonel Zadok Magruder, Thomas Sprigg Wootton and Richard Montgomery all owned slaves according to a combination of census records, wills and books on the subject.
"Slavery was prevalent in our county," Montgomery County historian Ralph Buglass said. "In 1850, nearly one of every two residents was enslaved; there was hardly a large landholder that did not also have at least several enslaved people working that land."
Magruder and Wootton high schools both opened in 1970.  Magruder, a wealthy landowner in Montgomery County, was a Revolutionary War hero. Wootton, a member of the Maryland Colonial Assembly, suggested the creation of Montgomery County (named for Revolutionary War hero Richard Montgomery).  Both used slave labor on their farms.
Census records for Magruder show him owning 26 slaves in 1790, and the application for his home, The Ridge, to become a historic site in Maryland details the slave quarters of the house.  His grandson, William Magruder, owned the Oakley slave cabin, which is now the property of the Montgomery County Department of Parks and operated as a museum.
Wootton is documented as inheriting slaves from his father and leaving slaves and land to his nephew.
While there is easily-found information about Wootton and Magruder as slave owners, the only solid evidence that Montgomery owned slaves exists in a line in his will, which states that he left his slaves, along with the rest of his property, to his wife, Janet Livingston Montgomery.  
Because there is no other evidence of Montgomery's connection to slavery, historians assume that "he acquired slaves when he married into the Livingston family," said Michael Gabriel, author of "Major General Richard Montgomery: The Making of an American Hero."
The Livingston family, however, was known to be prominent New York slave owners. "Twelve percent of the population in New York state during the Revolution were slaves," American Revolution historian Gene Procknow said. "It was a lot more prevalent in the North than people had thought."
Richard Montgomery High School was originally named Rockville High School in 1892 when it opened. But when the "Rockville Colored High School" opened 35 years later, "there was apparently some concern in the white community about the similarity of the names of the two Rockville (white and 'colored') high schools," Buglass said.
The concern led to the name of the white school being changed to honor Montgomery, the Revolutionary War hero, despite the fact that he never set foot in Montgomery County.
"I don't believe that most people really knew that [Montgomery] was a slave owner," Procknow added. "You have to dig through deeply to [find] that."
Montgomery County Public Schools most likely would not have known about Montgomery's status as a slave owner when the school was named.  While an 1859 printing of Montgomery's will accurately said that Montgomery left his "slaves" to his wife, an 1876 book published by Louise Livingston Hunt, a relative of Janet Livingston Montgomery, changed the word "slaves" to "shares."
A reference assistant at the Department of Rare Books and Special Collections at Princeton University, where the physical copy of Richard Montgomery's will is housed, confirmed to The Current that the word "slaves," not "shares" appears in Montgomery's will.
Gabriel thinks Hunt made a mistake in her copying of the will, but Procknow believes this may have been a deliberate attempt to influence the perception of Richard Montgomery's legacy. Northerners "kind of wanted to erase their past," Procknow said. "Especially [for] someone like Richard Montgomery, who was a real American hero."
Morally-problematic information about historical figures who are otherwise referred to as American heroes often creates controversy. In August of 2017, statues and monuments commemorating Confederate soldiers and generals were removed in more than ten states following the Charlottesville protest.
"I think the conversation about the school's namesake is an important one to have," Maryland historian David Rotenstein said. "We can't erase history but we can learn from it."
Buglass agrees that history should not be erased, but said, "We need not commemorate, by naming institutions for them, individuals whose views and actions do not represent what we value today." Buglass emphasizes that the names of schools should reflect the diversity of Montgomery County. "We can choose better role models, especially for buildings that play an important role in instructing our future citizens."
Though the history behind these names does not accurately reflect society today, Procknow does not think the names of either Montgomery County or Richard Montgomery High School should be changed.
"My personal view on this is that I don't think that there is a litmus test on anything we should do here because I think these are complicated situations," Procknow said. He added that people should be educated about the history because no person is entirely good or entirely bad.
Retired Maryland state archivist Dr. Edward Papenfuse has an equitable solution to the complicated issue of school names. "In my opinion, no public school should be named after any individual, unless perhaps they are teachers," Papenfuse said.  "After all, they are the ones who deserve recognition."
"It's an extraordinarily complex situation," MCPS Board of Education President Michael Durso said when he learned the history of these names. "It's something that should be looked at…I don't think it's an issue that [is] going to go away."    
*Editor's note: Montgomery Blair was not included in this article because there is evidence that Blair, despite growing up in a slave-owning family, never owned slaves himself.
Several elementary and middle schools in MCPS are also named after slave owners. The Current chose to focus solely on high schools for this article, but urges students and parents of students at other schools named for people to research the namesakes.

Hits : 4090