Sports Wrap Up: April 23
Hang on for a minute...we're trying to find some more stories you might like.
Boys Lacrosse
Boys lacrosse lost to the Poolesville Falcons with a score of 19-1 last Friday, April 20. Despite having a shortened roster the Wolverines still managed to hold their own against the Falcons who came out ready to play. The 'Rines next game is today, April 23 at home against the Seneca Valley Screaming Eagles at 7:15 pm. Don't forget to come out and support.
Girls Lacrosse
Girls lacrosse lost their second straight game this past Friday, April 20 to the Poolesville Falcons to a final score of 19 to 2. The 'Rines put up a fight most of the game and worked as a team, but just couldn't finish their opportunities to start a comeback. The 'Rines look to bounce back against Seneca Valley High School this Tuesday April 24, here at the mill, at 7:00pm so come out and support.
Baseball
'Rines baseball fell to Magruder high school last Friday, April 20 by a final score 13-1. The Wolverines competed all game but overall couldn't match the Colonels on offense. The 'Rines next game is today, April 23, at 3:45 pm against the Blake Bengals. Come out and support 'Rines baseball as they look to pick up their fourth win on the season.
Boys Volleyball
Boys volleyball came out with a win against the Damascus Hornets last Friday, April 20. The boys won by a score of 3-1, winning the first last three sets. "Me and the boys are very happy about how the game went. We communicated a lot and got the win," junior Andre Tulloch said. Boys volleyball takes on the Northwest Jaguars at home today April 23 at 7:15 pm. Come out and support Wolverines volleyball.
Track and Field
Wolverines outdoor track is looking to get back on track after their recent loss to the Northwest Jaguars on Tuesday, April 17, dropping their record to a still impressive 5-1.
The Wolverines were excited to compete for the division's leading spot but suffered a heartbreaking loss even with full effort. Traveling all the way to the Jaguars track in cold weather, the wolverines battled but couldn't come out on top.
Prior the Northwest Dual Meet, Watkins Mill was hosted the Jim Vollmer Invitational on Saturday, April 14. That day was full of success with the boys winning overall amongst around 30 teams.
The track squad's next meet is at the Penn Relays held at University of Pennsylvania from April 26 to April 28.

Hits : 392
About the Writers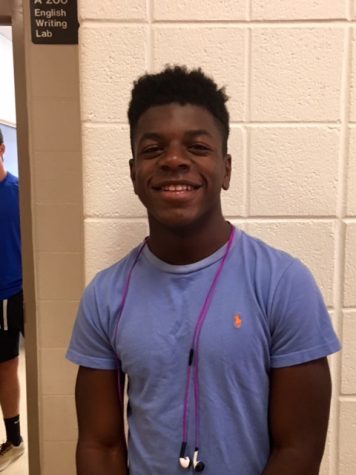 Hezekiah Likekele, News Editor
Hezekiah Likekele is a junior writer for Watkins Mill High School Current. He is primarily a sports writer but can also be a great addition for news and...