Valentine's Day doesn't have to be sad just because you're single
Hang on for a minute...we're trying to find some more stories you might like.
Valentine's Day, the day that couples love and single people hate. But it doesn't have to be like this, there is a way that everyone can enjoy this day.
Now you can be single, that's perfectly fine, (I'm lying. It's really not. Go find somebody to love.) just gotta make the best of life. You shouldn't stay inside just because everyone else is happy. Go be happy too. And I, The Great Hezetation, will show you the way.
If you're reading this, I forbid you to stay home and watch Netflix crying, eating ice cream all day, or eating Tide pods (like a certain someone in newspaper has been known to do). DON'T DO IT SIS.
Be your own valentine and treat yourself. Maybe buy a candy gram and send it to yourself. Make it seem like you got that special someone when it's actually you. I'm pretty sure we've all thought about or have been guilty of doing it.
Ladies, go and get your nails done or get dressed up and go out to dinner with a group of friends. Take a couple bomb flicks and post 'em on the socials so the guys can see what they're missing.
Fellas, go out with the bros and make a competition to see who can spit the most game to the ladies (in a respectful way though because we're respecting women now, all 2018). You guys can make fun of your mans getting all fake numbers at the end of the day. The winner gets dinner of his choice from all the losers. Only rule is don't get mad when you're talking to said lady and she asks, "Who's your friend back there? He's kind of cute." And if you're a female reading this, please don't say that to a guy. It hurts more than you know.
If you decide to go out and you see a couple, you can congratulate them on their happiness because that's good for them. Or if you feel like really mixing things up, ask which number girlfriend that is. Girls will almost ALWAYS believe their man is cheating.
Another good place to ruin a couple's fun time is at the movies. Make it more of a game where there's only one rule: stick your head between the couples right when they're about to kiss and start laughing obnoxiously. It will annoy them. Every. Single. Time.
At the end of the day, Valentine's Day is just 24 hours of your life which you will get through. We celebrate it all wrong anyway because it has nothing to do with couples being happy. You all annoy me. Can't let me enjoy being single in peace without bringing up how your boo brushed their teeth today or something irrelevant like that. Anyways, yeah have fun!
P.S. All Valentine's Day candy is on sale on February 15, so start saving up.

Hits : 1323
About the Writers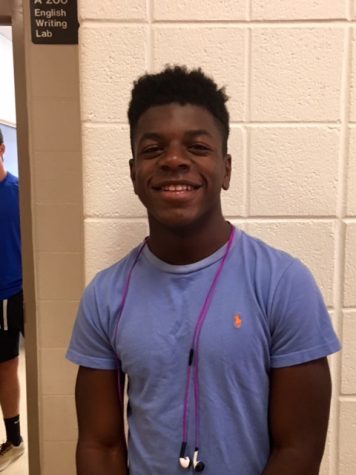 Hezekiah Likekele, News Editor
Hezekiah Likekele is a junior writer for Watkins Mill High School Current. He is primarily a sports writer but can also be a great addition for news and...