'Plastic for Prosperity' project hopes to bring joy to the less fortunate in our area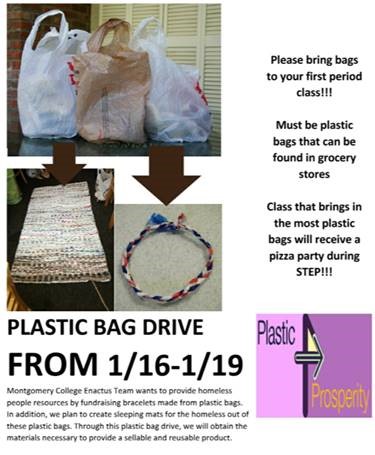 Hang on for a minute...we're trying to find some more stories you might like.
Students and teachers are donating plastic bags in the hopes of reaching a collection goal of 240,000 bags to help make mats for over 800 homeless people in Montgomery County.
Plastic for Prosperity is a project that two alumni, Ian Nathan and Nick Marasigan, created as part of their Enactus program at Montgomery College. They develop projects that apply business concepts and an entrepreneurial approach to create change in the local community.
They're collecting recycled plastic grocery bags to make them into bracelets to sell and raise money for the homeless around the county. They're also making mats and collaborating with a local homeless shelter. Marasigan got the inspiration from his driving experience to and from MC. He has seen many homeless people on the islands at intersections for several years.
"I wanted to help them, but I did not want to just give them cash upfront. One reason is that some homeless people do not use the money wisely," Marasigan said. "Instead I began thinking of a sustainable way to make a change in their lives."
Their goal is to teach homeless people how to create a mat out of the plastic bags and create bracelets to sell. One bag makes two to four bracelets and 300 bags make one mat. With the funds collected, they will also provide resources that the homeless people need, such as sanitary products and food.
As requirement for their project they had to partner with community organizations and chose Watkins Mill. They reached out to science teacher Matt Johnson to help spread the word around the school.
"What else are you using those random bags for at home that continue to pile up?" Johnson said. "Why wouldn't you want to donate them to good use and help out the homeless people in our area?"
Johnson also organized a contest at Watkins Mill for each first period class to see who can bring in the most bags. The winner has yet to be announced. Although the contest over, you can still help and donate by bringing your bags straight to Johnson.
"Through the plastic bag drives, we hope to reuse these bags and not fill our houses and even landfills with them while helping someone less fortunate than ourselves," Nathan said.