Freshman Seda Tsarni conquers competition through repeated success on the mat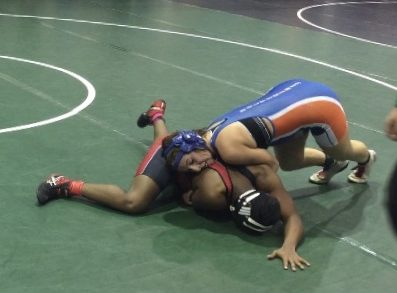 Hang on for a minute...we're trying to find some more stories you might like.
"It's hard to join wrestling in general, but as a girl, I had to work twice as hard to get respect on the mat," freshman and two-time Maryland state wrestling champion Seda Tsarni said.  Tsnari is the only female on the Watkins Mill High School wrestling team.
"I've had four matches last year, including Maryland States, which I won twice. And during the high school season, I've had about three [matches. I've wrestled] only for about a year. At first, I hated it because I was completely out of shape, but as I progressed, I started getting serious about the sport,"  Tsarni said.
Tsarni boxed before she wrestled, but her brother's wrestling coach encouraged her to pursue wrestling. "My dad forced me to go to practice, and I fell in love with [wrestling]," Tsarni added.
"Usually, when I wrestle dudes, [they think] I would be an easy one… Once I let them know, 'Hey, I'm here to wrestle you and beat you,' they start going all out," Tsarni said. "My teammates are my brothers. They support me with everything I do and give me a big amount of respect. I've never met guys so supportive."
In addition to boxing and wrestling, Tsarni also trained as a swimmer. "After I started boxing, I learned that I'm a fighter and I loved it… but [swimming and boxing did] not compare to my love for wrestling. I quit both swimming and boxing for wrestling, and it was a great decision," Tsarni added.
Tsarni takes inspiration from her friend, who is currently in an Olympic development program in Pennsylvania. "I've always looked up to her. She's the reason why I started working so hard," Tsarni said. "[My teammates] know I'm the one who wants [to win] the most and they do nothing but help me get there."
"If you're interested in wrestling, never let your fear hold you back. It builds character. It builds mental and physical strength. [It all depends] on whether or not you're going to work for it. Never expect success to come to you, it's all on you," Tsarni added.

Hits : 157