Outing Club takes students into great outdoors to explore nature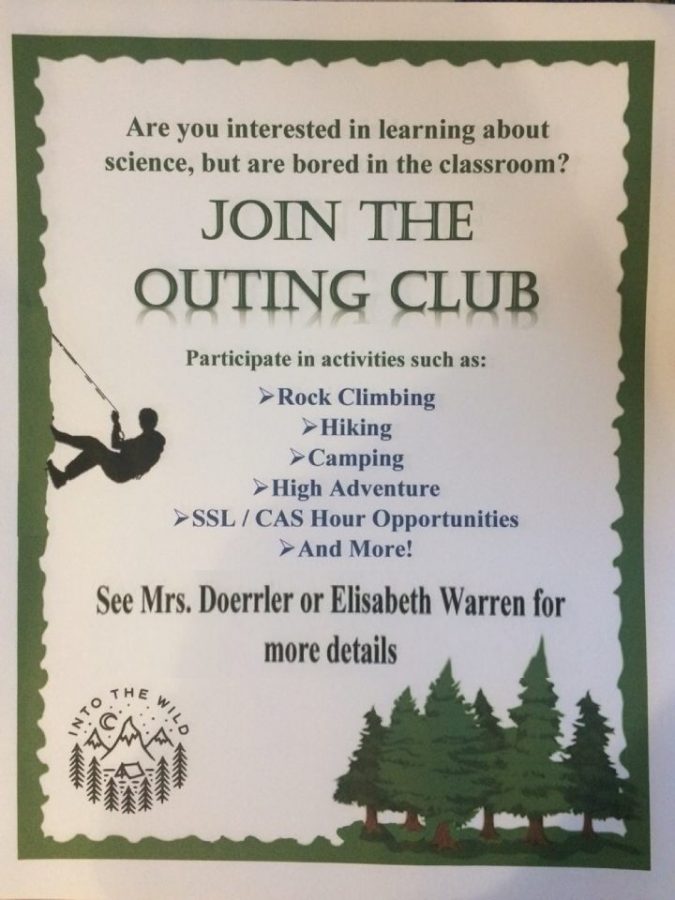 Outdoor activities such as hiking and camping are fun things to do, but now you can have the chance to do these and more by joining the Outing Club at Watkins Mill High School.
The Outing Club, previously known as the Environmental Club, was restarted this year by senior Elisabeth Warren as part of a Girl Scouts project. With the current events taking place both politically and environmentally, Warren "wants people in [Watkins Mill] to take care of the environment."
The Outing Club aims "to get kids outside in the environment and hopefully from that, learn to appreciate the environment that we have," Outing Club sponsor Karen Doerrler said.
During the interest meeting, students talked about the kinds of activities they would like to do. Members of the Outing Club take information from several sciences and connect them to the outdoors. The Outing Club "is fun, but you're learning about Environmental Science, Biology and Physics at the same time," Warren said.
In addition to doing recreational activities outside, club members will participate in several service projects to help clean up the environment.
Doerrler is very passionate about the environment and wants people to take the time to appreciate it. "People spend way too much time on electronics and they need to be outside," Doerrler added.
According to Warren, over half of the people in the Outing Club have never gone hiking. "A lot of the people here at Watkins Mill have never done certain outdoor activities before," Warren said. Some students are unsure of what to expect from the club because they do not have any experience with hiking or camping.
Members may have to spend money on things like camping gear or skiing trips. "Some of the activities are going to be a little pricey, so we're hoping to do fundraisers…to offset [part of] the costs," Doerrler said.
"It's always been a passion of mine, being outside, enjoying the nature, hiking, camping," Doerrler added. "So to share it with students is even better, especially kids who have never done it before."

Hits : 1039
About the Contributors
Vicki Wong, Editor-in-Chief
Vicki Wong is a senior at Watkins Mill and one of the Co Editors-in-Chief. She has been writing for The Current since her sophomore year and primarily...
Aisha Sowe, Associate Editor
Aisha Sowe is a senior and an Associate Editor for The Current.  Aisha has been writing articles for the school newspaper since her sophomore year. After...