Brothers Rush into varsity football program, make big impact
You may joke that your sport is your middle name, but these brothers actually have it as their last names. Junior Anthony and sophomore Demetrius Rush both have their names in the game, and they are living up to it.
"The best part about playing with my brother is hearing our names on the announcements," Demetrius said. The brothers are going on their second year of playing high school football together. They were motivated by their mother and friends during elementary school to play the sport. Since then, they have been playing in little leagues and improving.
Both are leading in their categories. Demetrius is one of the top receivers in the county and Anthony is in the top ten rushing, as he approaches 1000 yard rushing. "The sky's the limit if they continue to work more during the off-season, they should be the best duo in the county," athletic director Reggie Spears said.
"The best part about playing with my brother is the connection we have," Anthony said. He has an admiration for his little brother's playing skills and had a feeling that he would make it on the varsity team his freshman year.
"I hope [people] see us as equals," Demetrius said. He would like for people to see them as nothing more and nothing less when compared to one another.
"With them being on the same team, both of them want to be the best possible so they push each other in a good way," coach Michael Brown added. The brothers use this competition as motivation when they are playing.
The duo makes being co-captains look easy. "Without them and their will to win, we would be nothing and when we see them doing their thing it also pushes us to do the same,"  junior football player Deshaun McCrimmon added.
"I feel like they're the leaders of this team and we're counting on them to lead us to the playoffs this year," assistant football coach Paul Vance said.
The boys strive for greatness and it is frequently noticed by coaches. They are known to take on challenges and rise to the occasion. To see them in action before the playoffs, rush out to 'The Den' tomorrow at 6:30pm.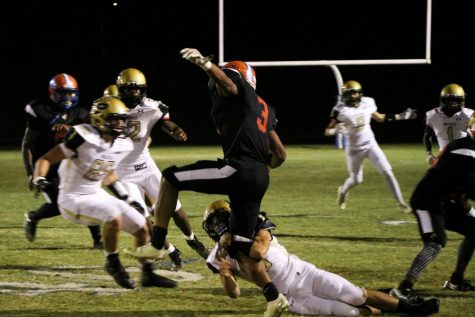 Hits : 2143