Students sign up for new American Sign Language class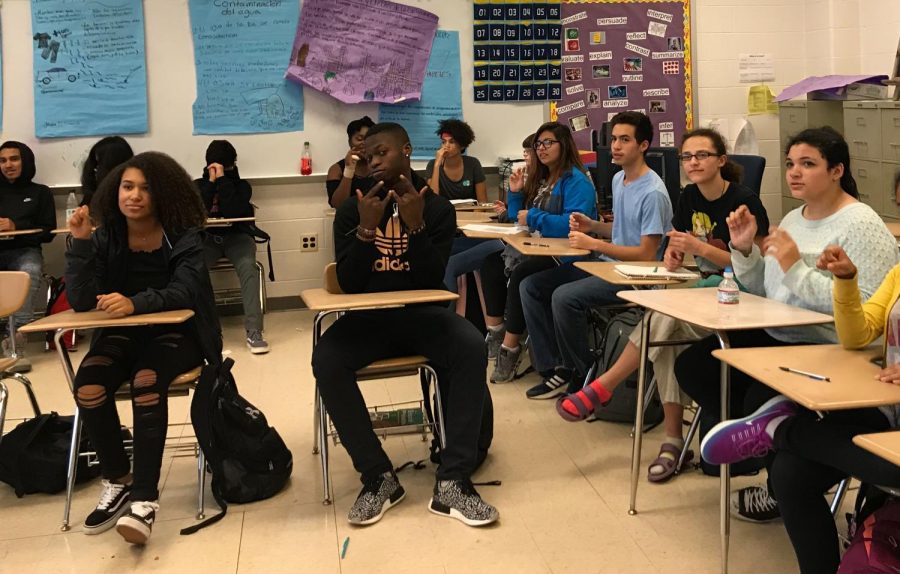 Spanish, French and English classes have always been offered as a chance to learn a second language at Watkins Mill High School. However, students can now enroll in one more, American Sign Language (ASL).
As of now the class only offers one year, but teachers and administrators are looking forward to adding a second year. "Hopefully next year we'll be able to offer ASL 2," resource counselor Paul Young said.
The staff at Watkins Mill have been thinking about adding the new class for over a year. However, it was principal Carol Goddard who set forth the action to make it a reality. "I think [Goddard] saw a want and need for that class," Young added.
American Sign Language teacher Amy Crumrine has been teaching the language for the past five years. She started learning it herself in seventh grade and went on to teach high school and college level classes. She wants her students to know more about the deaf community. "I see the need for more deaf teachers to show the beauty of deaf culture," Crumrine said.
Sophomore Cathryn Ciuba feels that the language is easier to pick up and that "it can be hard and easy in both ways." She is going to continue to practice ASL even after she finishes the class. "It will take some time but I'll definitely teach other people," Ciuba added.  
According to Ciuba, Crumrine was teaching her class about the deaf community during the 9/11 attacks. Due to a lot of the towers falling down, a lot of deaf people didn't know what was going on. "I think people in general should learn [ASL]. That way they can tell the deaf people to save themselves," Ciuba added.
ASL is an easy course to learn if students do their work, pay attention, and refrain from using their cell phones.  Crumrine also says that the class is very visual. "They need to pay attention 100%," Crumrine said. She also teaches about deaf culture and their lives and how to be a better person.

Hits : 1551
About the Writers
Aisha Sowe, Associate Editor
Aisha Sowe is a senior and an Associate Editor for The Current.  Aisha has been writing articles for the school newspaper since her sophomore year. After...