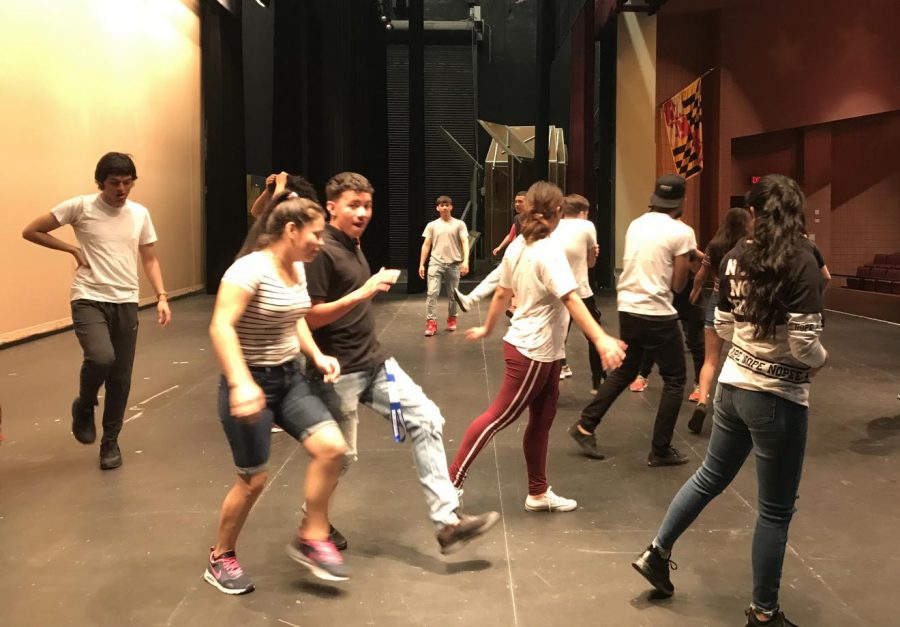 Sharon Faber
Olney Theatre Center National Players came to Watkins Mill October 2 and 3 during second, third and fourth periods to construct a movement workshop with students from the ESOL theater class in the auditorium.
The mission of the Olney Theatre Center is "to bring theater to communities where theater is generally inaccessible economically or geographically," National Player Anna Shafer said. "That is a really exciting idea to me and I'm looking forward to learning all that I can learn and bringing theater around the country."
The purpose of the workshops is to inspire students to "let loose, have fun, and explore different things through movement. This can help if they're thinking about becoming a different character," National Player Saira Grewal said.
"This is an opportunity for them as soon as they enter Watkins Mill," ESOL theater teacher Sharon Asro Faber said. "Part of the pathway is for them to be placed in my ESOL theater class so that they can gain confidence in the environment and with their English-speaking skills and free themselves up both with movement and speech."
Tours for the Olney Theatre's National Players started a few weeks ago after the actors were selected to perform and lead workshops for the year. "It felt like an opportunity for adventure and getting to travel the whole country and learn as much as I possibly could," Grewal said.
There are three different theaters in the Olney Theatre Center including the main stage where large musicals take place, the slab for plays, and the historic, the oldest stage. The National Players construct different workshops for all age groups from elementary school to college-age students. They visit schools, art centers, theater groups, and prisons to encourage and build theater skills.
"The ensemble of the National Players is a really great experience for young theater professionals and it has an education aspect which is incredibly important so we get to be teaching artists and actors," Shafer said.
"I don't speak any Spanish so it was scary at first because some of the exercises had rules or a goal," National Player Matt Merline said. "Through movement and gesture, we could communicate pretty clearly."
The National Players are the longest running classical touring company since 1958. It began as a summer stock theater and became a theater center soon after. A thousand aspiring actors audition to get into the National Players, of which ten are selected. The Olney Theatre Center is in Olney, Maryland and they perform several plays and musicals a year.
"I thought it was a really great opportunity for us to build an ensemble and to get everyone moving together and being one unit and feeding off of each other and listening," National Player John Yazzo said.